Iranians Stage Massive Rallies to Mark Int'l Quds Day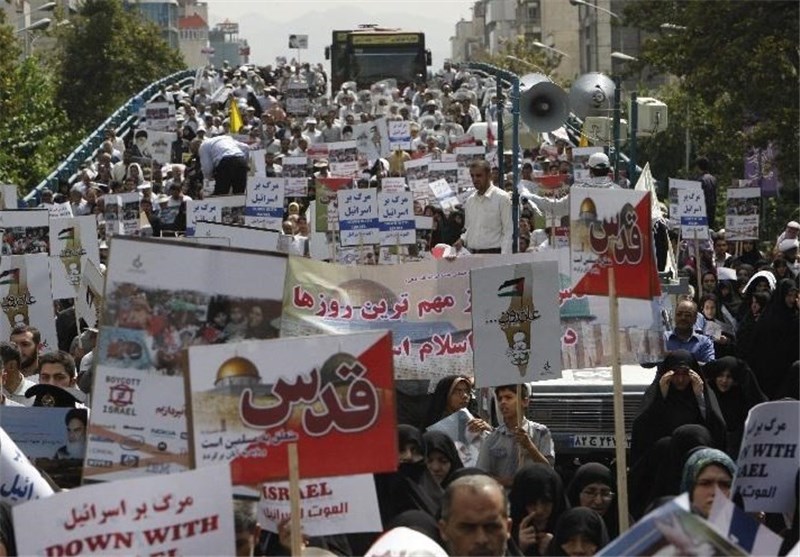 TEHRAN (Tasnim) - Iranian people from all walks of life took to the streets all over the country on Friday morning to mark the International Quds Day and voice their solidarity with oppressed people of Palestine.
Millions of Iranians staged massive rallies in Tehran and other cities on Friday to condemn continued occupation of the Palestinian territories by the Zionist regime of Israel.
The fasting protesters are carrying placards and chanting 'Down with the US' and 'Down with Israel' .
The International Quds Day is an annual event during which demonstrators express their solidarity with the Palestinian people and opposition to the Zionism as well as Israel's control of Beit al-Muqaddas.
The day was first suggested by the late founder of the Islamic Republic, Imam Khomeini, in August 1979.
Imam Khomeini declared the last Friday of the holy month of Ramadan as the International Quds Day, and called for Muslims' massive rallies to mark the occasion.
It is now commemorated in several countries in the world, the Islamic states in particular, with enthusiastic protests against the Israeli occupation of Palestinian territories, particularly East al-Quds (Jerusalem).
Every year, the Muslim nation of Iran along with other Muslims and freedom-seekers announces its support for the Palestinian nation and other Muslim nations.
Also, Supreme Leader of the Islamic Revolution Ayatollah Seyed Ali Khamenei has on many occasions underlined the importance of the International Quds Day rallies, reiterating that liberation of the Palestinian territories from the hands of the usurper Zionist regime is the responsibility of all Muslims.
Ayatollah Khamenei has also stressed that liberating Palestine from the grip of Israel and its allies is a religious duty for all Muslims across the world.