IRGC Official Stresses Significance of Massive Turnout in Int'l Quds Day Rallies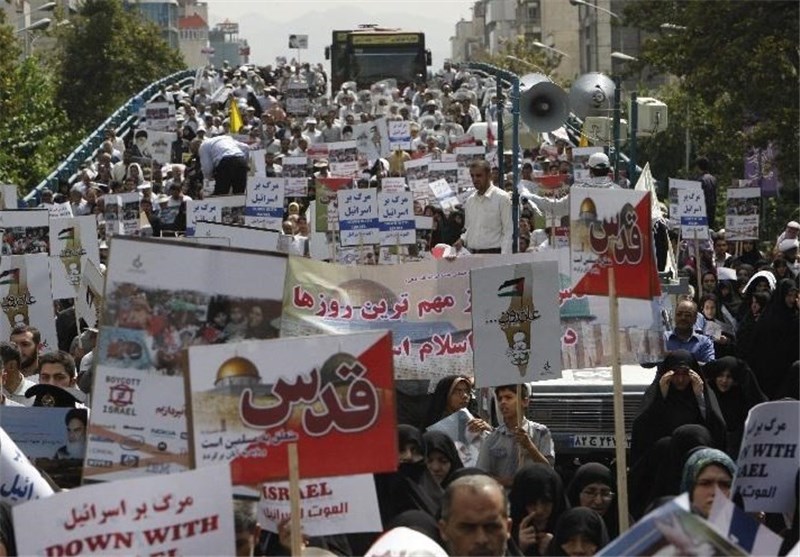 TEHRAN (Tasnim) – A senior official of the Islamic Revolution Guards Corps (IRGC) underlined the importance of Iranians' massive participation in rallies on the International Quds Day, and called it a way to thwart the western plots against Islam.
"Presence of the Iranian nation in this sensitive and important juncture will have a significant role in strengthening the resistance and countering the plots (hatched) by colonialism and arrogant powers," Supreme Leader's representative at the IRGC Ali Saeedi told Tasnim today.
The Iranian official further described the Islamic Revolution as a move that initiated the support for Palestine's oppressed nation and paved the ground for the wave of Islamic awakening in Islamic countries.
Meantime, Iranian people from all walks of life took to the streets all over the country on Friday morning to mark the International Quds Day and voice their solidarity with oppressed people of Palestine.
Millions of Iranians staged massive rallies in Tehran and other cities on Friday to condemn continued occupation of the Palestinian territories by the Zionist regime of Israel.
The fasting protesters are carrying placards and chanting 'Down with the US' and 'Down with Israel' .
The International Quds Day is an annual event during which demonstrators express their solidarity with the Palestinian people and opposition to the Zionism as well as Israel's control of Beit al-Muqaddas.
The day was first suggested by the late founder of the Islamic Republic, Imam Khomeini, in August 1979.
Imam Khomeini declared the last Friday of the holy month of Ramadan as the International Quds Day, and called for Muslims' massive rallies to mark the occasion.
Every year, the Muslim nation of Iran along with other Muslims and freedom-seekers announces its support for the Palestinian nation and other Muslim nations.