Rouhani: Iran Not to Succumb to Sanctions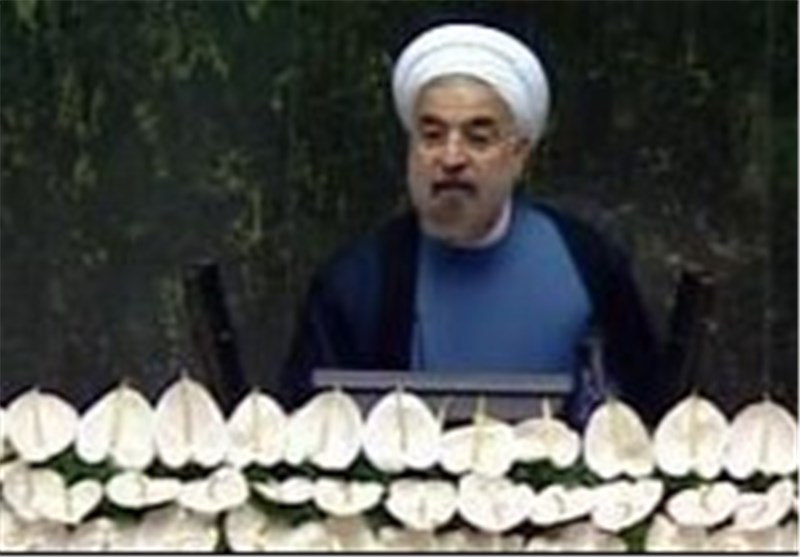 TEHRAN (Tasnim) – Iran's new President Hassan Rouhani underlined strong national unity in the country, and stated that sanctions and intimidation cannot force the Iranian nation to surrender.
"A nation that enjoys national solidarity and participates in elections with high security, tranquility and turnout cannot be forced to surrender by imposing sanctions or threatening it with war," president Rouhani said in his swearing-in ceremony at the venue of the Iranian parliament in Tehran Sunday afternoon.
Rouhani also called on the western governments to abandon hostile policies towards Iran, and stated, "I say candidly that if you want a proper response, speak to Iran not with the language of sanctions but with the language of respect."
He added that the only way for interacting with Iran is dialog on equal footing, mutual confidence-building, mutual respect and reduction of hostilities.
Rouhani took the oath of presidential office in a swearing-in ceremony held in parliament minutes ago with the presence of high ranking delegations from more than 50 countries.
Dozens of senior foreign leaders and officials have attended the ceremony.
According to Tasnim dispatches, high-ranking foreign officials in the swearing-in ceremony included 11 presidents, 2 prime ministers, 7 parliament speakers, 8 vice presidents, 3 deputy prime ministers, 11 foreign ministers and 12 ministers, as well as two special guests, namely former Malaysian Prime Minister Mahathir Mohamed and former European Union Foreign Policy Chief Javier Solana.
In a separate ceremony held on Saturday to mark the official start of the new president's first term in office, Supreme Leader of the Islamic Revolution Ayatollah Seyed Ali Khamenei endorsed Rouhani's presidency.