Iran's President: Tehran Keen to Expand Ties with Ashgabat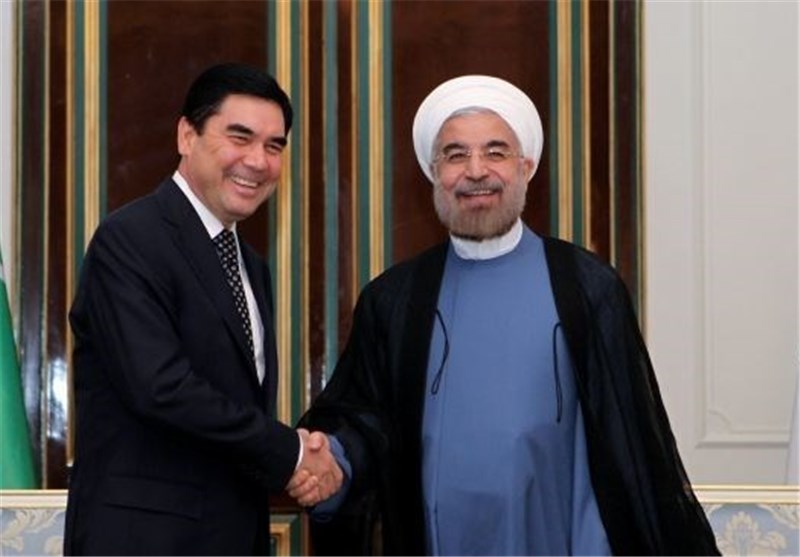 TEHRAN (Tasnim) – Iran's new President Hassan Rouhani praised the close ties between Iran and Turkmenistan, and emphasized the need for further enhancement of bilateral relations between the two neighboring countries.
In a meeting with his Turkmen counterpart Gurbanguly Berdimuhamedow on Sunday, President Rouhani pointed to amicable relations between Tehran and Ashgabat, saying, "Bilateral relations in economic, political and cultural fields will further develop in future."
Stressing the importance of economic cooperation between Turkmenistan and Iran, Rouhani also noted that completion of Iran-Turkmenistan-Kazakhstan railroad will enhance bilateral relations.
In 2007, Iran, Kazakhstan and Turkmenistan signed an agreement to construct the North-South Transnational Corridor.
The rout will link Uzen in Kazakhstan with Gyzylgaya-Bereket-Etrek in Turkmenistan and end at Gorgan in the Iranian province of Golestan. Then it will be connected to Iran's national rail network, making its way to the Persian Gulf ports.
Berdimuhamedow, for his part, praised Rouhani's views with regards to strengthening bilateral relations, and said his country will always support Iran's stances in the international scene.
The Turkmen president is in Iran to attend Rouhani's swearing-in ceremony held at the venue of the Iranian parliament on Sunday.
The new Iranian president took the oath of office before the parliament as the country's seventh president, after Saturday's endorsement of his presidency by Supreme Leader of the Islamic Revolution Ayatollah Seyed Ali Khamenei.