Iran's Envoy, Qatari DM Meet in Doha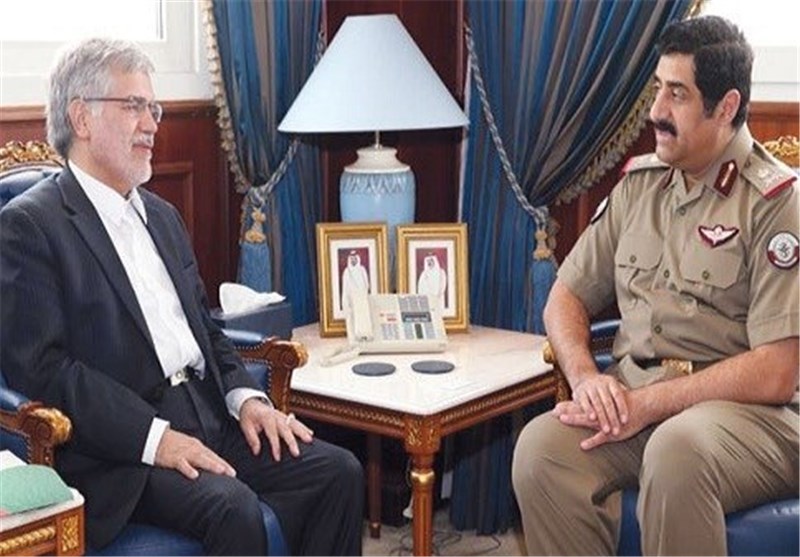 TEHRAN (Tasnim) – Iranian Ambassador to Qatar Mohammad Javad Asayesh Zarchi met with the Qatari Minister of Defense Major General Hamad bin Ali al-Attiyah in Doha to explore ways to expand the two countries' cooperation.
During meeting , the Iranian envoy extended messages of congratulation from Commander of the Islamic Revolution Guards Corps (IRGC) Major General Mohammad Ali Jafari and Iranian Defense Minister Major General Ahmad Vahidi to the Qatari minister on his post.
The meeting was also attended by Iran's military attaché in Qatar Lieutenant Brigadier General Mashallah Pourshe, as well as a number of top military brass serving in the Qatari armed forces.
Moreover, the Iranian envoy and Qatari minister explored avenues for the expansion of bilateral relations between Tehran and Doha and discussed issues of mutual interest.
The new Qatari defense minister took the office after a major realignment of the cabinet by the country's newly inaugurated emir, Sheikh Tamim bin Hamad Al Thani.
Tamim reshuffled the cabinet after his father, 61-year-old Sheikh Hamad bin Khalifa Al Thani, abdicated power in June in favor of his son.