Mursi Loyalists Call Fresh Protests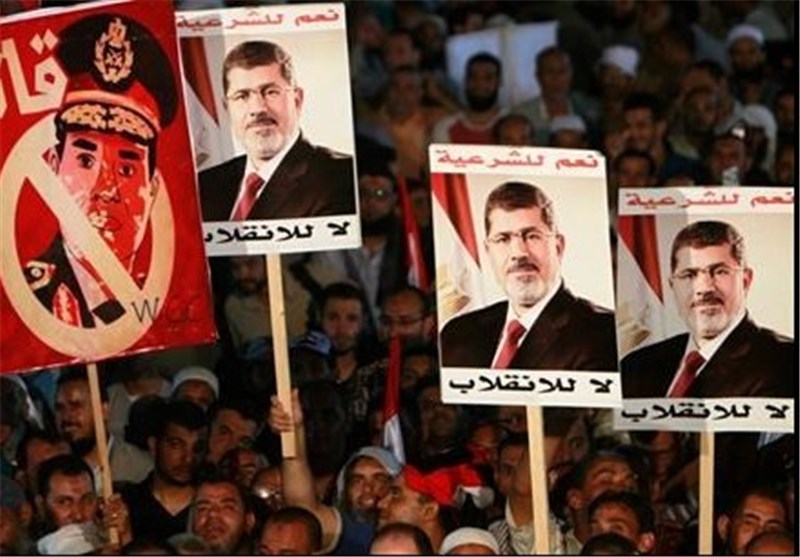 TEHRAN (Tasnim) - Supporters of ousted Egyptian president Mohamed Mursi called more rallies for Sunday to demand his reinstatement, amid last ditch efforts for reconciliation ahead of a threatened crackdown on protests.
The Anti-Coup Alliance said 10 marches would take off from various parts of the capital "to defend the electoral legitimacy" of Egypt's first freely elected president Mursi, ousted by the military on July 3, AFP reported.
His supporters, led by the Muslim Brotherhood, have kept up two huge protest camps in Cairo and said nothing short of his reinstatement will persuade them to disperse.
The call for fresh rallies comes as Al-Azhar, Sunni Islam's highest seat of learning, called for reconciliation talks in the latest of a string of attempts to find a peaceful solution to the political deadlock.
Al-Azhar's Grand Imam, Ahmed al-Tayyeb, is to begin contacts with political factions on Monday aimed at convincing them to sit down to talks later this week.
"Al-Azhar has been studying all the proposals for reconciliation put forward by political and intellectual figures... to come up with a compromise formula for all Egyptians," Tayyeb's advisor, Mahmud Azab, told the state-owned al-Ahram.
More than 250 people have been killed in clashes since Mursi's ouster by the military, following days of mass rallies demanding his resignation.
The government had already ordered police to end the pro-Mursi protests, which it described as a "national security threat."