President Blasts West's Logic behind Anti-Iran Sanctions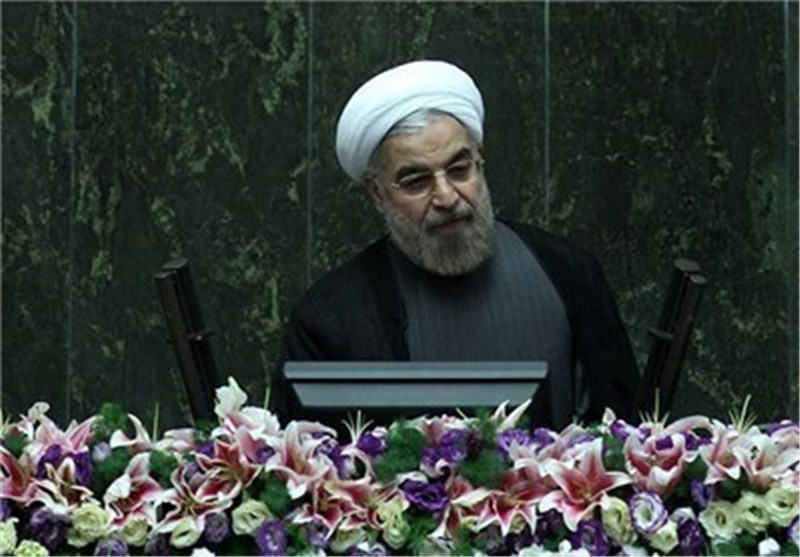 TEHRAN (Tasnim) – Iran's President Hassan Rouhani on Monday dismissed western countries' logic behind imposing unilateral sanctions on Tehran as "improper approach to resolve a problem".
Addressing an open session of the parliament here in Tehran today, Rouhani pointed to the international pressures against Iran, and stated that sanctions have targeted Iran's economy.
Rouhani, who attended the parliament session in a bid to defend his nominees for the new cabinet, lashed out at the western countries for their logic behind their stance on Iran, and asked, "Is the approach adopted by the western countries a proper and correct way for resolving an international problem?"
Rouhani further called on westerners to adopt a "logical, rational and acceptable" method that could be approved by "humanity in the present and future era."
He then reiterated that settlement of the current standoff between Iran and western countries is possible through "less costly" solutions.
In similar remarks on August 6, President Rouhani made comments on his country's approach to the nuclear program, and reaffirmed Tehran's determination to pursue a "win-win" solution to the issue.
"We are prepared to enter serious and meaningful negotiations with determination and without wasting time, and if our opposing party is equally ready, I am confident that the concerns of both sides will be allayed through dialogue," the Iranian chief executive pointed out at the time.
The United States and the European Union have imposed illegal unilateral sanctions against Iran over the false claim that Iran's nuclear energy program includes a military component.
Iran rejects the allegation, arguing that numerous inspections of its nuclear sites by the International Atomic Energy Agency (IAEA) have invariably failed to find any diversion towards military purposes.