Bahraini Revolutionaries Block Main Manama Street
TEHRAN (Tasnim) – Bahraini opposition activists say security forces have intensified security measures in the capital, but revolutionary protesters, too, have managed to block Manama's main street, barring the Al Khalifa forces from getting to their strongholds.
Manama's Khalifat al-Kabir Street was blocked by the revolutionary forces in the early hours of Wednesday afternoon , and a large number of used car tires were set ablaze, according to an al-Wefaq National Islamic Society report.
Bahrain's Interior Ministry has referred to the move as "a terrorist act."
The Bahraini revolutionary sources have also said that Al Khalifa forces have stationed their anti-protest units at 70 points in the capital city, fearing further escalation of the Wednesday's nationwide protests.
Some of Manama districts in which the Bahraini forces have been stationed include al-Hadiyya, Jadd Hafs, al-Sahla, Aali, Hamad Township, al-Bilad al-Qadim, al-Zanj, Sanad, Raas Ruman, Sitra, the highway passing by the iconic Martyr ( Pearl) Square, al-Bahama, and al-Sanabas.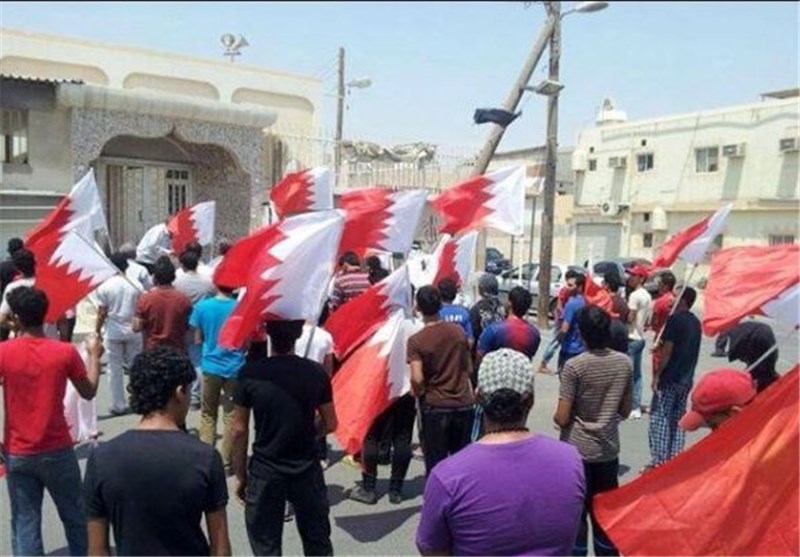 Al Khalifa security and military forces, supported by Saudi troops stationed in the country, used poisonous gasses on Wednesday in their encounters with protesters in Sitra island village, according to al-Wefaq National Islamic Society.
Several protesters-- mostly very young Bahraini citizens in Sitra, such as Ali Jafar Haib, 10 -- were killed after inhaling those gases.
But the residents of Sitra have braved the crackdown and violent measures deployed by the security forces, and decided to continue with their protest rallies.
The Sitra village is a small island whose residents have always resisted against Al Khalifa forces and many of those killed in the course of Bahrain's revolution are from this island, which is of great strategic importance to the regime.