Egypt Seethes under Curfew after Hundreds Killed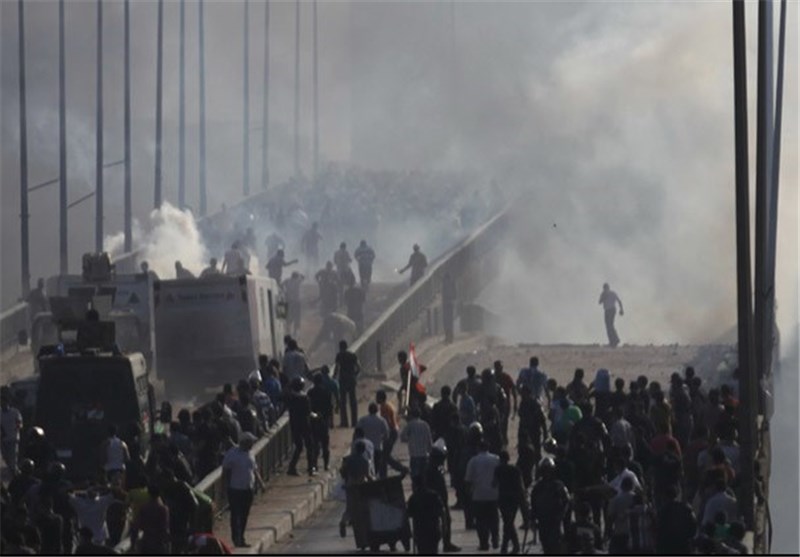 TEHRAN (Tasnim) - Security forces struggled to clamp a lid on Egypt on Thursday after hundreds of people were killed when authorities forcibly broke up camps of supporters protesting the ouster of former president Mohamed Mursi.
Protesters clashed with police and troops who used bulldozers, teargas and live fire on Wednesday to clear out two Cairo sit-ins that had become a hub of Muslim Brotherhood resistance to the military after it deposed Mursi on July 3, Reuters reported.
The clashes spread quickly, and a health ministry official said about 300 people were killed and more than 2,000 injured in fighting in Cairo, Alexandria and numerous towns and cities around the mostly Muslim nation of 84 million.
The Muslim Brotherhood said the true death toll was far higher, with a spokesman saying 2,000 people had been killed in a "massacre." It was impossible to verify the figures independently given the extent of the violence.
The military-installed government declared a month-long state of emergency and imposed a dusk-to-dawn curfew on Cairo and 10 other provinces, restoring to the army powers of arrest and indefinite detention it held for decades until the fall of autocrat Hosni Mubarak in a 2011 popular uprising.
The army insists it does not seek power and acted in response to mass demonstrations calling for Mursi's removal.
Vice President Mohamed ElBaradei, a Nobel Peace Prize winner who lent liberal political support to the ousting of Egypt's first freely elected president, resigned in dismay at the use of force instead of a negotiated end to the six-week stand-off.
Other liberals and technocrats in the interim government did not follow suit. Interim Prime Minister Hazem el-Beblawi spoke in a televised address of a "difficult day for Egypt" but said the government had no choice but to order the crackdown to prevent anarchy spreading.
The United States, the European Union, the United Nations and Turkey condemned the violence and called for the lifting of the state of emergency and an inclusive political solution to Egypt's crisis.
An EU envoy involved in mediation efforts that collapsed last week said the authorities had spurned a plan for staged confidence-building measures that could have led to a political solution.
The Brotherhood publicly rejected any plan that did not involve Mursi's restoration to office. An Egyptian military source said the army did not believe the Islamists would eventually agree to a deal and felt they were only stringing the diplomats along to gain time.
In Cairo, police and soldiers aided by self-styled "popular committees" of civilian vigilantes armed with clubs and machetes enforced the curfew, searching cars and checking identity cards of people passing through makeshift checkpoints made of tires and concrete blocks.
Despite the lockdown, hundreds of Mursi supporters tried to gather at El Iman mosque in the Cairo neighbourhood of Nasr City in an attempt to start a new sit-in to replace the main camp dispersed at nearby Rabaa al-Adawiya square, MENA reported.
They chanted "down, down, military rule" and "police are thugs," a Reuters witness said.
The protesters converted part of the mosque into a field hospital to tend to the wounded from the other sit-in, it said.
Wednesday's death toll took the number of people killed in political violence since Mursi's fall to about 600, mostly Islamist supporters of the ousted president.
Violence rippled out from Cairo, with Mursi supporters and security forces clashing in the cities of Alexandria, Minya, Assiut, Fayoum and Suez and in Buhayra and Beni Suef provinces.