Iran's Parliament Holds Fourth Day of Debates on Rouhani's Cabinet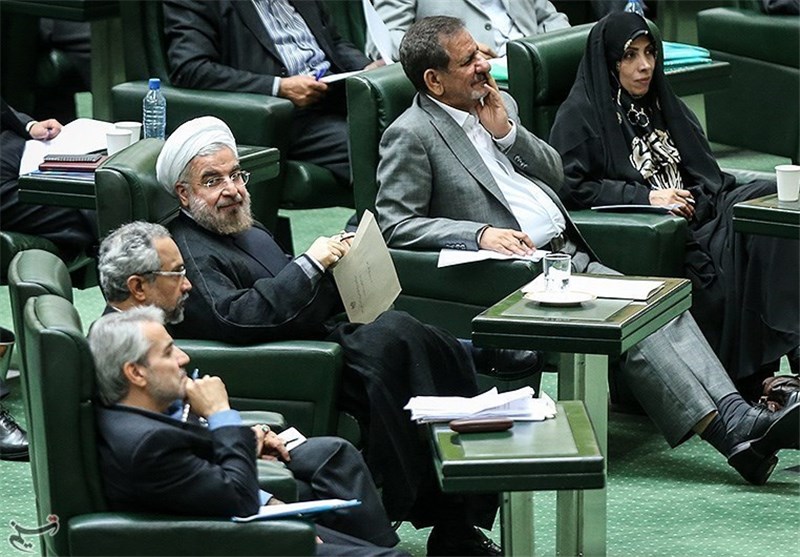 TEHRAN (Tasnim) – The Iranian lawmakers on Thursday morning began their fourth day of debates on President Hassan Rouhani's proposed ministers, with the president in attendance.
The Iranian MPs' debate on the credentials and backgrounds of Rouhani's nominees began in Parliament on Monday, August 12, and continued during the Parliament's Tuesday and Wednesday morning and evening open sessions.
President Rouhani attended Monday's sessions, Tuesday morning session, and Wednesday sessions in a bid to defend his proposed ministers.
On Tuesday, the Iranian lawmakers held debates on qualifications of six ministers.
Rouhani had unveiled the list of his proposed cabinet members during his swearing-in ceremony on August 4.
The majority of Rouhani's 18 ministerial nominees are expected to win a vote of confidence from the parliament.
Earlier, a Member of Parliament's Presiding Board Zarqam Sadeqi told Tasnim that debates on qualifications of the proposed cabinet are likely to continue until Saturday.
If any of the proposed ministers fails to win a vote of confidence, Rouhani will have up to three months to name a replacement.