Muslim Brotherhood Vows to Bring Down Egypt's 'Military Coup' Peacefully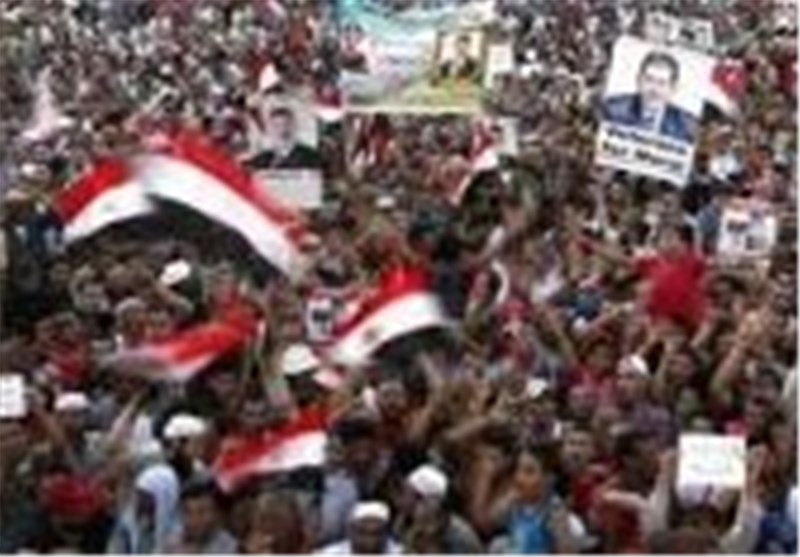 TEHRAN (Tasnim) - Egypt's Muslim Brotherhood said on Thursday it would bring down the "military coup" but stressed it remained committed to a peaceful struggle, despite the heavy loss of life when government forces broke up its protest camps.
"We will always be non-violent and peaceful. We remain strong, defiant and resolved," Brotherhood spokesman Gehad El-Haddad wrote on his Twitter feed.
"We will push (forward) until we bring down this military coup," he added.
Security forces struggled to clamp a lid on Egypt after the worst nationwide bloodshed in decades, although a curfew largely held in Cairo overnight.
Protesters clashed with police and troops who used bulldozers, teargas and live fire on Wednesday to clear out two Cairo sit-ins that had become a hub of Muslim Brotherhood resistance to the military after it deposed Mursi on July 3.
The clashes spread quickly, and a health ministry official said about 300 people were killed and more than 2,000 injured in fighting in Cairo, Alexandria and numerous towns and cities around the mostly Muslim nation of 84 million.
In Ankara, Turkish Prime Minister Tayyip Erdogan called on Thursday for the UN Security Council to convene quickly and act after what he described as a massacre in Egypt.
At the site of one Cairo sit-in, garbage collectors cleared still-smoldering piles of burnt tents on Thursday. Soldiers dismantled the stage at the heart of the protest camp. A burnt out armored vehicle stood abandoned in the street.
The Muslim Brotherhood said the true death toll was far higher, with a spokesman saying 2,000 people had been killed in a "massacre". It was impossible to verify the figures independently given the extent of the violence.