Fresh Protests Begin in Egypt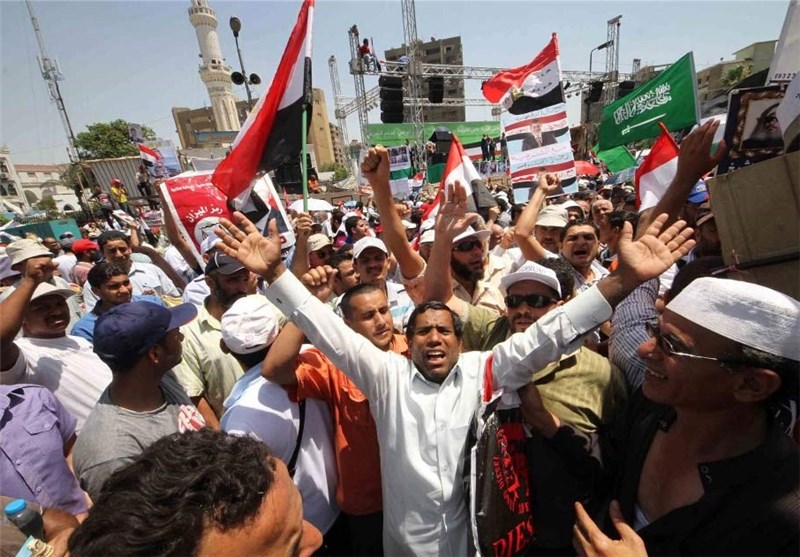 TEHRAN (Tasnim) - Thousands of supporters of ousted Egyptian President Mohammed Mursi started fresh protests in the capital, Cairo, amid fears of further clashes.
Security forces are reported to have blocked off the focal point of their demonstrations, central Ramses Square.
The protests take place two days after Muslim Brotherhood camps in Cairo were broken up with the loss of at least 638 lives.
Police have been authorized to use live ammunition.
With a state of emergency still in force, BBC journalists in Ramses Square described the atmosphere as tense.
Hundreds of people gathered at a nearby mosque after the Muslim Brotherhood, which backs Mursi, appealed to its supporters to demonstrate after Friday prayers in a "march of anger".
The demonstrations are taking place under the slogan "the people want to topple the coup" - referring to the military's removal of Mursi on 3 July.
His supporters have been urged to converge on Ramses Square from a number of mosques throughout the city.
Security in the capital is tight, with many armored personnel carriers on the streets.
Entrances to Tahrir Square, the focus of demonstrations that led to the toppling of President Hosni Mubarak in 2011, were also reported to have been blocked off by the army.
State TV said the military was deploying to protect "important and vital facilities".
There are fears of renewed bloodshed after authorities said the police were entitled to use live ammunition to protect themselves and key state institutions from attack.
Wednesday's violence began when armored bulldozers moved into the two Cairo protest camps.
The smaller of the two camps, at Nahda Square, was cleared quickly but clashes raged for several hours in and around the main encampment near the Rabaa al-Adawiya mosque. The mosque was badly damaged by fire.