Pakistanis Stage Rallies against Killings in Egypt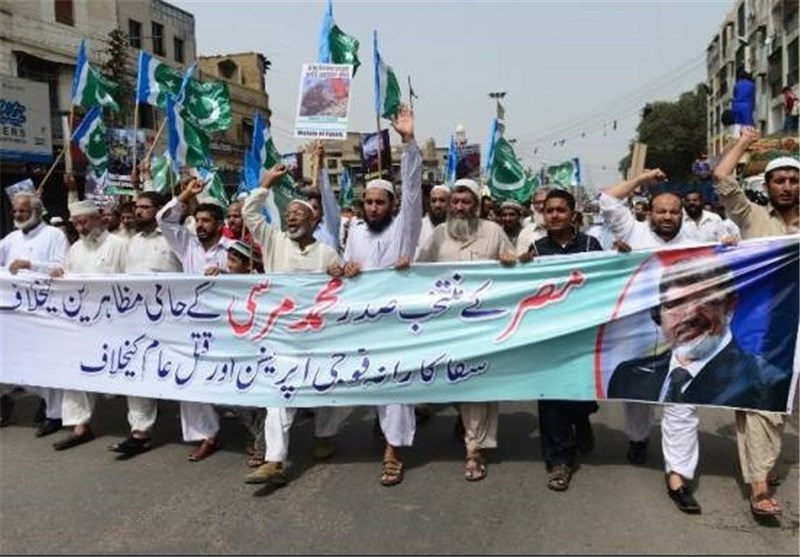 TEHRAN (Tasnim) - People across Pakistan staged peaceful protests on Friday to condemn the killing of hundreds of pro-Mursi supporters by the security forces.
Participants in the protest rallies expressed their solidarity with the Egyptian people and demanded the immediate restoration of the elected government there. They supported Turkey's demand for an immediate UN Security Council meeting to discuss Egypt's situation.
Mohamed Mursi, Egypt's first democratically elected president, was ousted by the army on July 3.
Rallies were held in the federal capital and the four provincial capitals. Local leaders of the Jamaat-e-Islami (JI) and other prominent people addressed the gatherings, Dawn Newspaper reported on Saturday.
JI Amir Syed Munawar Hasan appreciated the stance of Islamabad over the crisis in Egypt but added that it should play a more meaningful role for the restoration of Egyptian people's rights.
The party leaders has also demanded an open trial for Egyptian army chief General Abdel Fattah al-Sisi and his coterie for toppling an elected government and the massacre on Aug 14.
Also people in Lahore offered funeral prayers in absentia for those killed in Egypt.
According to official figures, at least 638 people were killed on Wednesday after the security forces stormed and cleared two protest camps in Cairo, a move that drew international condemnation.