Leader of Mexico's Gulf Drug Cartel Captured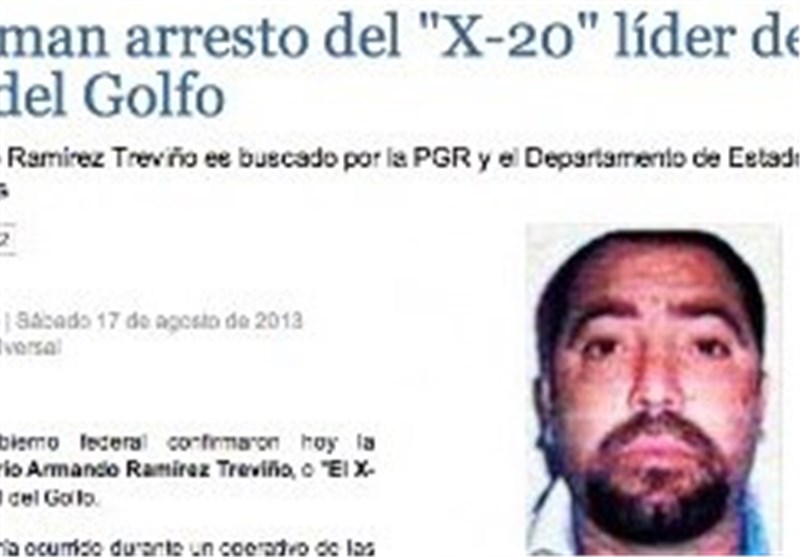 TEHRAN (Tasnim) - The leader of the Gulf cartel, one of Mexico's oldest drug-running groups, has been captured, Mexican officials said.
Mario Armando Ramirez Trevino was apprehended by the Mexican army Saturday morning, according to a government statement. The arrest took place in Rio Bravo, Tamaulipas, near the Texas border, Mexican media said.
Ramirez, 51, known as "El Pelon," or "The Bald One," was indicted on drug distribution charges in a US federal court in 2008. The US State Department has offered a reward of up to $5 mln for his arrest. He is presumably also wanted on similar charges in Mexico, Los Angeles Times reported.
The arrest dealt a blow to a drug-running enterprise whose power has waned in recent years with the rise of other criminal groups across Mexico.
The Gulf Cartel, whose roots as a smuggling outfit date to the 1930s, was once a formidable force in the Mexican drug game.
Though it is still involved in marijuana and cocaine smuggling to the US through the border city of Matamoros, near the southernmost tip of Texas, its power has diminished in recent years with the rise of the ruthless Zetas cartel. The Zetas began as a paramilitary wing of the Gulf cartel, but eventually split off.
In recent years, the Gulf cartel joined forces with the powerful Sinaloa cartel in an effort to push back against the Zetas. The result was a gruesome turf war in numerous Mexican states.