President Rouhani Officially Receives Oman's Sultan Qaboos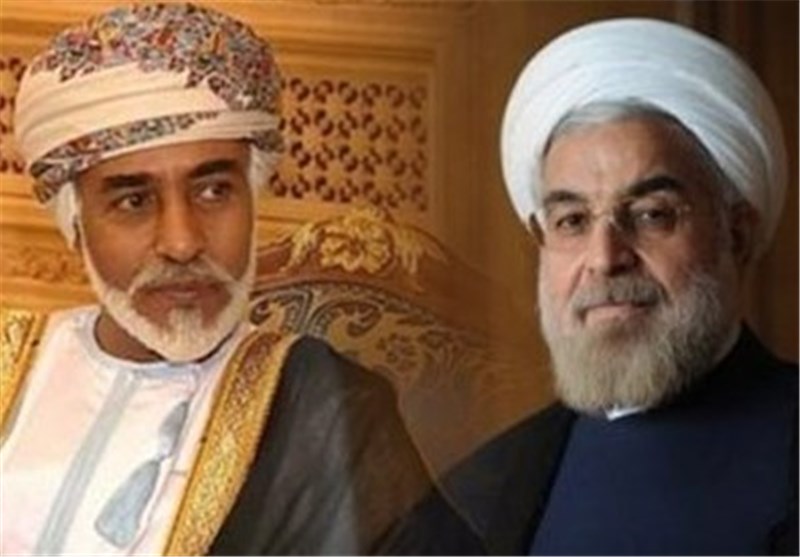 TEHRAN (Tasnim) – President Hassan Rouhani officially welcomed Oman's Sultan Qaboos bin Said Al Said in Tehran's Saadbad Palace minutes ago, Sunday, as the first head of state he receives since he took over as president in early August.
The reception ceremony protocol was fully performed and the two heads of state headed for their first round of talks behind closed doors on most important bilateral, regional, and international developments.
The Omani monarch had in his congratulation message to President Rouhani expressed interest in being his first foreign guest, according to the Foreign Ministry Spokesman Abbas Araqchi.
Oman's ruler is scheduled to hold talks with senior Iranian officials on a range of issues during his official visit, an informed source said.
The Islamic Republic of Iran is keen to improve bilateral relations with Oman, President Hassan Rouhani said on August 7.
In a earlier telephone conversation with Oman's Sultan Qaboos bin Saeed, the Iranian new president emphasized the need for official talks between Tehran and Muscat in order to expand bilateral cooperation between the two Muslim countries.
The Omani sultan, for his part, expressed eagerness to visit Iran's chief executive to discuss the issues of mutual interest.
Oman's Embassy in Tehran said on Wednesday that a large number of Omani ministers will accompany Sultan Qaboos on his visit to the Islamic Republic.
The Omani sultan will be the first head of state to visit Tehran since new Iranian President Hassan Rouhani was inaugurated in a ceremony on August 4, which was attended by representatives from many countries, including Oman.
Iran and Oman share control of the strategic Strait of Hormuz and have always maintained cordial relations.
Director of Iran Trade Promotion Organization for Persian Gulf, Farzad Piltan, said on June 16 that the volume of trade transactions between Tehran and Muscat stands at USD 250 million.
On May 28, Iran and Oman commemorated the 40th anniversary of the establishment of bilateral relations during a ceremony at the Iranian Foreign Ministry in Tehran.