FM: Iran to Work with UN for Finding Solution to Syrian Crisis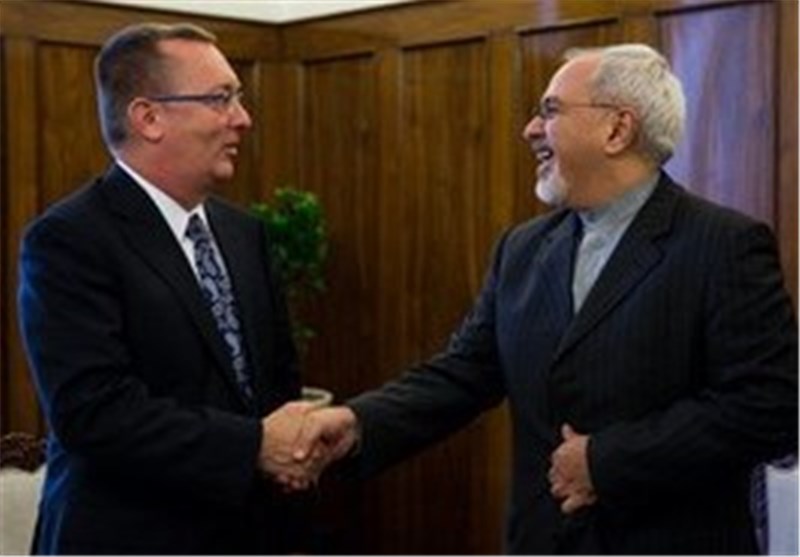 TEHRAN (Tasnim) – Iranian Foreign Minister Mohammad Javad Zarif voiced Tehran's preparedness to cooperate fully with the United Nations in order to find a peaceful solution to the crisis in Syria.
In a Monday meeting with the UN Under-Secretary-General for Political Affairs Jeffrey Feltman in Tehran, Zarif reiterated Iran's determination to find a peaceful way out of the impasse in Syria under the auspices of the United Nations.
The Iranian minister also referred to the UN as the leading authority with whose assistance the regional countries can maintain peace and stability in the region.
Zarif further expressed deep concern over the recent killings in Syria by chemical weapons.
In the latest atrocity in Syria, hundreds of people have been killed in chemical weapons attacks in suburbs of capital Damascus, with the government and the rebels accusing each other of being behind the massacre.
Feltman, for his part, described Iran as an influential country in the region, adding that the UN supports partnership of all sides for settlement of the Syrian crisis.
The American UN official arrived in Tehran on Sunday night at the top of a UN delegation.
He is the first top UN official since Secretary General Ban Ki-moon travelled to Iran in August 2012 to attend a summit of the Non-Aligned Movement.
Feltman was in Cairo last week for talks with Egyptian officials and Muslim Brotherhood leaders on how the United Nations can help facilitate reconciliation in the crisis-hit country.
Before joining the United Nations, Feltman served as US assistant secretary of state for Near Eastern affairs from August 2009 to June 2012 with the rank of career minister. He was previously the United States ambassador to Lebanon from July 2004 to January 2008.