Speaker: Military Action on Syria to Leave Lasting Adverse Effects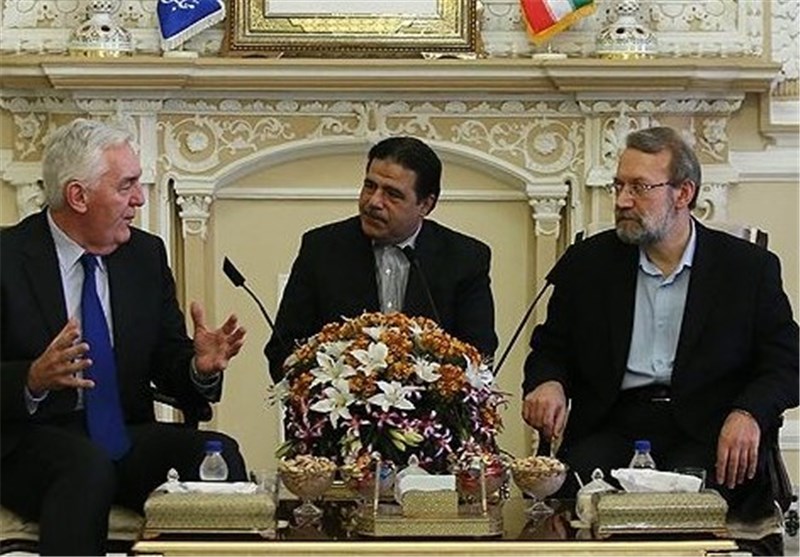 TEHRAN (Tasnim) – The Iranian Parliament Speaker Ali Larijani warned the western countries against resorting to military force against Syria, and stressed that the effects of such an adventurism will linger on in the region for years to come.
"Launching an attack under a false pretexts is a new adventurism, whose adverse effects will linger on in the region for a long time," Larijani said in a meeting with the new Australian Ambassador to Tehran Paul Foley Wednesday evening.
A possible military intervention in Syria could further consolidate terrorists groups, who have wreaked havoc in the region, and lead to more instability in the region, larijani added.
He went on to say further tensions in the region could provide the terrorists with the milieu in which they thrive, and urged regional countries to boost their cooperation to address problems.
The Australian ambassador, for his part, said the high-ranking officials of his country welcome consultations and negotiations with the Iranian authorities on bilateral and international issues.
Pointing to the ongoing developments in Syria, Foley also said his country has always underscored the need to counter terrorism.
The Iranian and Russian presidents, in a telephone conversation, condemned the use of chemical weapons by anyone as intolerable, but stressed that the West should not defy international law and attack Syria on the basis of an unverified claim.
As some western countries were preparing themselves for a possible strike against Syria, Iran and Russia called for restraint and warned about the consequences of an attack.
Also on Wednesday, President Hassan Rouhani and his Russian counterpart Vladimir Putin in their phone talk emphasized that any arbitrary military attack against Syria is a "blatant violation of the international law", adding that such a move can only lead to more instability in the Middle East.
President Rouhani praised Russia's stance on the issue, saying that it contributes to the establishment of peace in Syria.
"The Islamic Republic of Iran strongly condemns use of chemical weapons anywhere and by anybody but believes that any pre-judgment on the issue can be dangerous," Rouhani said.
President Putin, too, said that international issues have become very complicated, adding that Russia, like Iran, believes that use of weapons of mass destruction including chemical weapons is unacceptable.
He also said that no authentic evidence has been presented on the use of chemical weapons by the government of Syria, and noted that Russia does not believe that Syrian government has used chemical weapons since they had the upper-hand in the fight with rebels and did not need to resort to such deadly weapons.
Putin added that if US has any evidence to prove that Syria used chemical weapons, as they claim, they should give their information to the UN inspectors.