Obama Asks Congress to Approve Military Strike against Syria
TEHRAN (Tasnim) - President Barack Obama stepped back from the brink on Saturday and delayed an imminent military strike against Syria to seek approval from the US Congress in a gamble that will test his ability to project American strength abroad and deploy his own power at home.
September, 01, 2013 - 11:08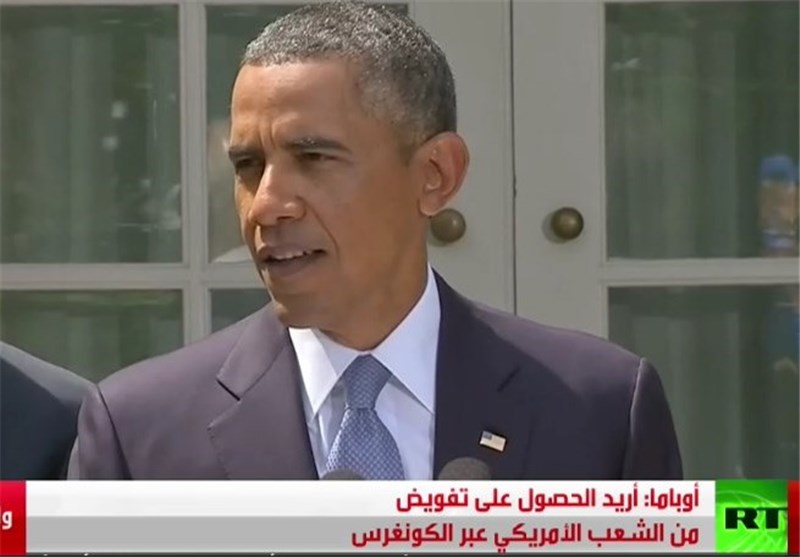 Before Obama put on the brakes, the path had been cleared for a US assault. Navy ships were in place and awaiting orders to launch missiles, and UN inspectors had left Syria after gathering evidence of a chemical weapons attack that US officials say killed 1,429 people.
But Obama decided to seek the backing of US lawmakers before attacking, as polls showed strong opposition from Americans already weary of wars in Iraq and Afghanistan. Approval will take at least 10 days, if it comes at all, Reuters reported.
"Today I'm asking Congress to send a message to the world that we are ready to move as one nation," Obama said in a dramatic shift he announced in the White House Rose Garden.
Obama, whose credibility has been called into question for not punishing the government of Syrian President Bashar al-Assad for earlier poison gas attacks, warned lawmakers they must consider the cost of doing nothing in Syria.
Obama's approach, which he debated with top aides on Friday night, has left in doubt whether the United States will carry through with the military steps that the president has already approved.
Backing from Congress is by no means assured, with many Democrats and Republicans uneasy about intervening in a distant crisis.
Obama's decision to consult with Congress is in line with an argument he has often made for a more collaborative approach to foreign policy in Washington than there was under his predecessor, President George. W. Bush.
But another reason to bring lawmakers into the process is that Obama might be able to share some of the responsibility with Congress if it votes for strikes on Syria that turn badly for Washington.