Iranian Parliamentary Delegation Meets Nasrallah
TEHRAN (Tasnim) – An Iranian parliamentary delegation met with Secretary General of Hezbollah Islamic Resistance Movement Seyed Hassan Nasrallah on Tuesday to discuss the latest developments across the region.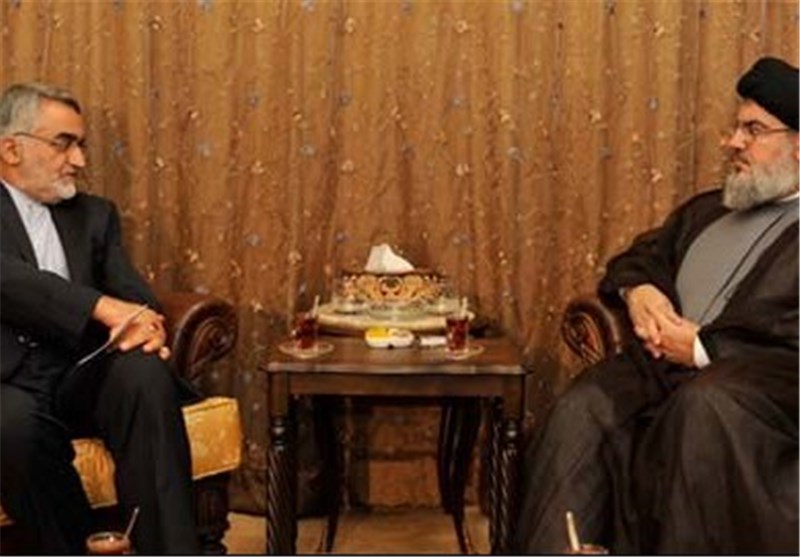 The delegation of Iranian lawmakers, headed by Chairman of the Iranian Parliament's National Security and Foreign Policy Commission Alaeddin Boroujerdi, had a meeting with the senior Lebanese leader this morning.
During the meeting, Boroujerdi conveyed his country's message of support for stability and national unity of Lebanon, expressing the hope that formation of the new Lebanese cabinet would open the door for broader cooperation between the two Muslim countries.
The Iranian lawmaker further pointed to his recent visit to Syria, and praised the Syrian government and nation's high morale and readiness to defend their country and confront any possible foreign intervention.
He also warned against making any "irrational decision" about Syria and urged the White House to listen to the demands of the international community and not to plunge itself into another deadly war.
Seyed Hassan Nasrallah, for his part, said the Zionist lobbysts are behind US adventurism in the region, and the fact that Washington is alone in its campaign to wage war on Syria is a clear sign that US pretexts are difficult to sell to others.
The US has been pushing for military action on Syria, after foreign-backed opposition forces accused President Bashar al-Assad's government of carrying out a chemical attack on militant strongholds in the suburbs of Damascus on August 21.
Lack of support for the US in carrying out its threats against Syria reveals the global disapproval of American-Zionist illogical justifications, Nasrallah added.
The US and France seem to be the only western countries ready to strike Syria, but recent opinion polls in both countries have shown strong opposition to a military involvement there.
Britain has already voted against taking any military action on Syria, and France has said it will not act without the United States as a partner.
On Sunday, US lawmakers questioned the possible unintended consequence of dragging the US into another military conflict and the wisdom of acting without broader international backing to share the burden.
The US Congress is due to reconvene on September 9 and will hold a vote on military action at some point after that.