Interim President: Egypt Road Map on Track
TEHRAN (Tasnim) - Egypt's interim president, Adly Mansour, said that a plan for a return to civilian government after the army's removal of President Mohamed Mursi was on track despite "challenges", and that emergency law should be lifted soon.
September, 04, 2013 - 13:51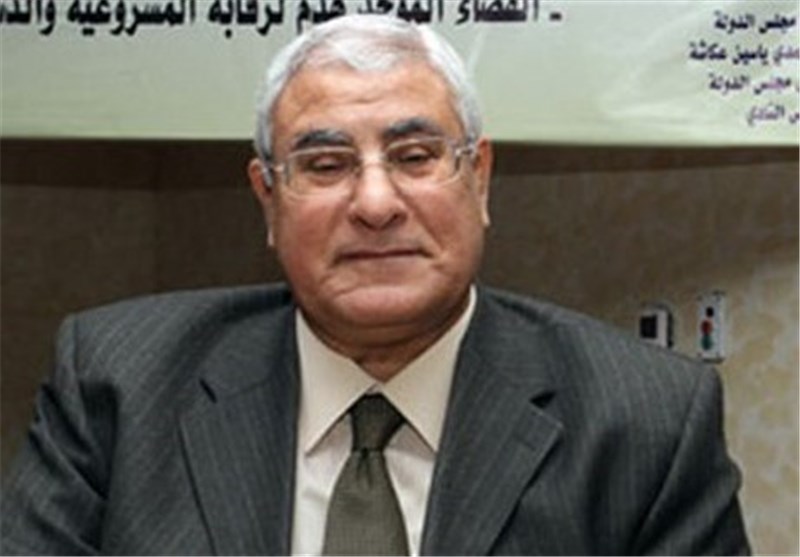 His comments were broadcast just after thousands of protesters took to the streets in towns and cities across Egypt to denounce the new military-backed rulers and demand Mursi's return - their second show of mass support in four days.
The interim government has launched a furious crackdown on Mursi's Muslim Brotherhood since toppling Egypt's first freely elected president on July 3, following huge protests, Reuters reported.
It has accused the group of terrorism, sent its top leaders to trial on charges of inciting violence or murder and killed hundreds of people demanding Mursi's reinstatement, most of them when two Cairo protest vigils were smashed on August 14.
Mansour said in an interview with state television that his decision to announce emergency law that day had not been easy, but "terrorism and the vicious war that was being waged by some of the extremists made it crucial."
If a "gradual improvement in security" continued, the state of emergency should end as planned in mid-September, he said.
Mansour also said a "road map" back to democratic rule, under which the constitution is to be amended, followed by parliamentary and presidential elections early next year, remained on track: "God willing, we will commit ourselves to the timeframe in the coming stages."
"There are no alterations on the priorities of the plan (road map), even though there are some challenges facing us."
Although the army-backed interim government has begun to revive the political security apparatus that was shelved, but not dismantled, after the 2011 revolt that overthrew Hosni Mubarak, Mansour said there would be no return to the days of political police.