Senior Cleric: Military Action on Syria to Harm US
TEHRAN (Tasnim) – Foreign-backed opposition forces' failure to defeat Syria's legitimate government over the past 30 months has forced the West to resort to military action against Syria, a senior Iranian cleric said, and stressed that military action in Syria will undoubtedly backfire.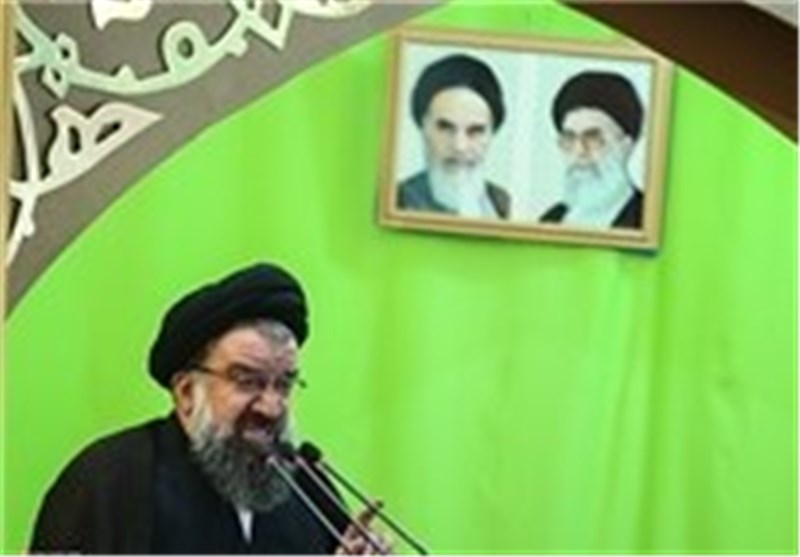 Tehran's Provisional Friday Prayers Leader Ayatollah Seyed Ahmad Khatami said the West decided to resort to military option against Syria after it failed to topple President Bashar al-Assad through opposition forces.
Addressing a large group of worshippers here in Tehran today, Ayatollah Khatami said conflicts in Syria will definitely leave impacts on those who are supporting military action against Syria.
"Americans, the Zionist regime (of Israel) and France from outside the region, along with Saudi Arabia, Turkey and Qatar from inside the region have ignited fire in Syria for more than 30 months, and numerous innocent people have lost their lives in this conflict," he added.
He further warned the US against "playing with human peace", and announced that the Syrian nation is fully prepared to confront any possible military assault.
In relevant remarks earlier on Thursday, Supreme Leader of the Islamic Revolution Ayatollah Seyed Ali Khamenei stated that the US wants to intervene in Syria not for humanitarian considerations but to dominate the region, and cautioned the White House against the fallout of its decisions.
"We believe the Americans are wrong and they are making a mistake in (regards with) Syria, and as a result they would be dealt a blow and definitely lose," Ayatollah Khamenei said at the time.
"The main objective behind the presence of the arrogance in the region is to dominate it ... and it wants to wipe out any resistance against such a presence," the Leader stated, but added that it will not be able to defeat the resistance front.
The US has been pushing for military action on Syria, after foreign-backed opposition forces accused President Bashar al-Assad's government of carrying out a chemical attack on militant strongholds in the suburbs of Damascus on August 21. The Syrian government denies any involvement and blames rebels for the attack.