Protesters Rally at US Consulate in Toronto over Proposed Strikes against Syria
TEHRAN (Tasnim) - Demonstrators rallied across the street from the US consulate in Toronto to protest intensifying American efforts to win backing for a military strike against Syria.
September, 08, 2013 - 11:13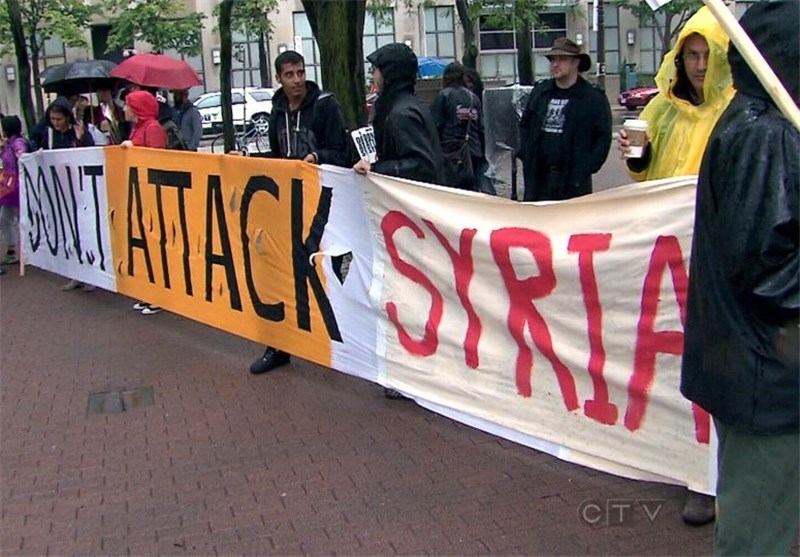 Several dozen people clutched umbrellas under heavy rain Saturday in one of several protests planned across Canada, CTV News reported.
Organizer Sid Lacombe said there's no reason to believe evidence the US claims shows Syrian President Bashar Assad's government was behind a chemical weapons attack on civilian areas.
He also said military action would lead to countless civilian casualties.
"We are not going to support the United States government as it launches yet another incredibly brutal, immoral and illegal war based on lies," said Lacombe, a co-ordinator with the Canadian Peace Alliance.
The protests come as US President Barack Obama presses ahead with efforts to win congressional support for military strikes in the wake of a deadly chemical weapons attack his administration blames on the Syrian government.
Obama has said action against Syria would not be an open-ended intervention and would not involve "boots on the ground."
The Obama administration came under pressure Saturday from European officials to delay possible action until UN inspectors report their findings about the alleged chemical weapons use.