US, Russia to Push for New Syria Peace Talks
TEHRAN (Tasnim) - US Secretary of State John Kerry and Russian Foreign Minister Sergei Lavrov agreed on Friday to push again for an international conference aimed at ending Syria's civil war.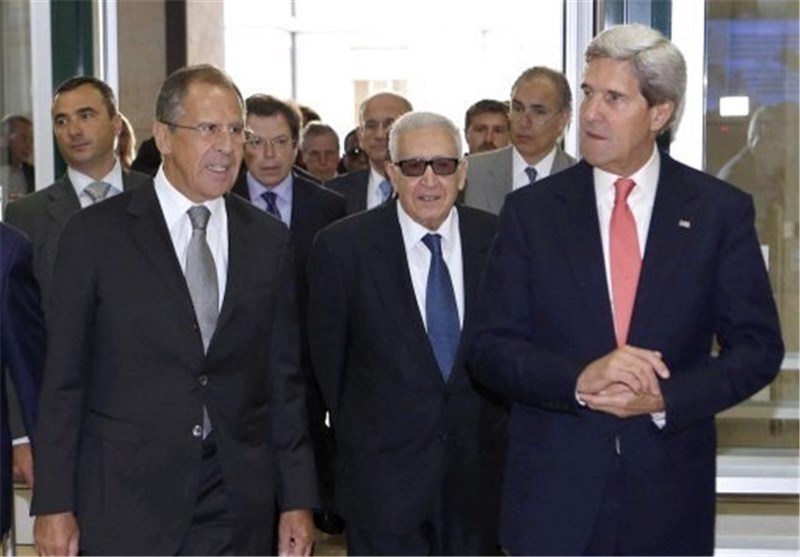 After meeting the UN envoy on Syria in Geneva, where they are trying to confirm a Russian plan to remove Syria's chemical weapons and avert US military action, Lavrov and Kerry said they agreed to try and make progress on a broader effort to end a conflict that has divided the Middle East and world powers.
They would meet again in about two weeks, around September 28 during the United Nations General Assembly in New York, and hoped progress in Geneva in the coming day on a chemical weapons disarmament deal would help revive plans for peace conference.
"We are committed to trying to work together, beginning with this initiative on the chemical weapons, in hopes that those efforts could pay off and bring peace and stability to a war-torn part of the world," Kerry told a joint news briefing, Reuters reported.
UN special envoy Lakhdar Brahimi, who also represents the Arab League, said working to remove chemical weapons from Syria would form an important element in efforts to hold new peace talks, following an earlier failed attempt at Geneva last year.
The United Nations said it received a document from Syria on joining the global anti-chemical weapons treaty.
Assad told Russian state television in an interview broadcast on Thursday that he would finalize plans to abandon his chemical arsenal only when the United States stops threatening to attack him.
Assad said Syria would provide an accounting of chemical weapons stocks in 30 days, standard practice under the treaty.