Commander: Army Ready to Repulse All Enemy Threats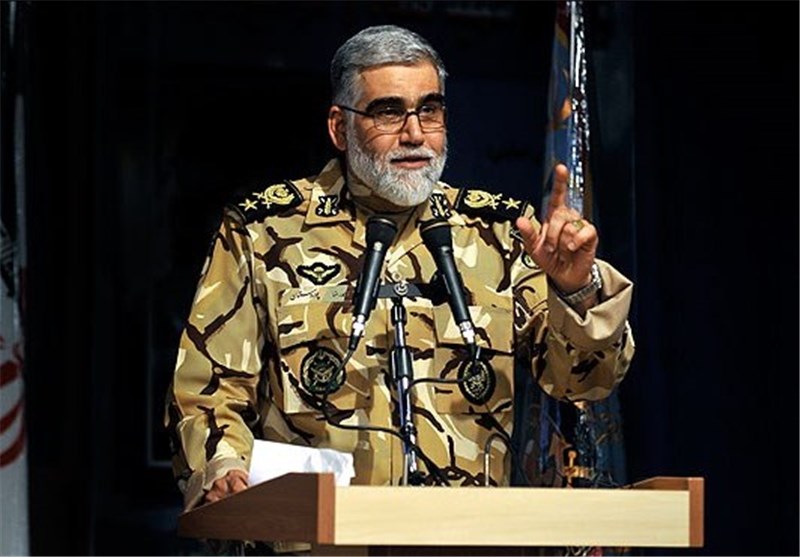 TEHRAN (Tasnim) – A senior Iranian commander said the Army is fully prepared to defend the country's territorial integrity and to give a "crushing" response to any possible threat.
"The Army will respond to any threat on the ground, in the air or the sea, and we will nip any threat in the bud," Commander of the Iranian Army Ground Force Brigadier General Ahmad Reza Pourdastan told reporters here in Tehran on Saturday.
He also touched on the recent developments across the region, and said, "We are witnessing widespread moves in the region, and given such moves, we have to create the required capabilities in our forces."
In relevant remarks on Thursday, Lieutenant Commander of Iranian Navy Rear Admiral Gholam Reza Biqam stated that all branches of the country's Army and the Islamic Revolution Guards Corps (IRGC) work as a single entity in the face of any threat against the country.
"Our defense strategy is a comprehensive one, and to reach that stage all (the armed) forces must join hands like the rings in a chain," he said at the time.
"These forces include the Navy, Ground Force and Air Force of the Iranian Army, as well as the IRGC forces. If each of them performs its commissioned tasks perfectly we will have a solid and strong defensive chain," Biqam added.
In recent years, Iran has made great achievements in its defense sector and attained self-sufficiency in producing essential military equipment and systems, including military vessels, aircraft, missiles, tanks, armored vehicles, submarines, radars, and air defense systems, among others.
Tehran has repeatedly announced that its military might is based merely on the nation's defense doctrine of deterrence and poses no threat to other countries.