Soleimani: Resistance Front Owes Dominant Regional Position to Syria
TEHRAN (Tasnim) – The western countries are aware that the anti-Israel resistance movement owes its dominant position in the region to the Syrian government, Commander of Quds Force of the Islamic Revolution Guards Corps (IRGC) Major General Qassem Soleimani said on Saturday.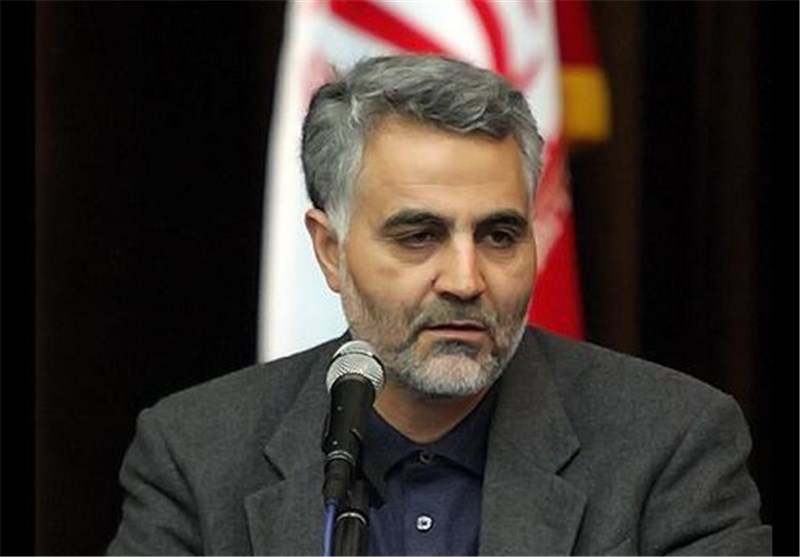 "Syria's real problem in the view of the West, Zionism and reactionary states is neither the rule of an Alawite minority nor a lack of democracy in that country (Syria), but the truth is that the West and reactionary states know that the resistance (front) enjoys its strong position thanks to the Syrian government," Major General Soleimani said on Saturday.
He also described the mounting plots hatched by foreigners against Iran as a consequence of the influential position of the Islamic Republic, and said, "Plots such as inciting sectarian and ethnic clashes, eroding the resistance front in Lebanon, instigating Shiite - Sunni confrontation and directing Takfiri extremist groups against the Islamic Revolution all pursue a single purpose: undermining the position of Iran in the region."
The IRGC official further touched on other measures taken by "the arrogance front and reactionary states," saying abuse of religious sensitivity in the Muslim world, the covert unity of the Zionist lobbyists and reactionary states, formation of a united media campaign in the region and the West, heavy spending by the reractionary states are measures to counter the resistance front and the Islamic Revolution.
In relevant remarks on September 5, Supreme Leader of the Islamic Revolution Ayatollah Seyed Ali Khamenei had stated that the US wants to intervene in Syria not for humanitarian considerations but to dominate the region, and cautioned the White House against the fallout of its decisions.
"The main objective behind the presence of the arrogance in the region is to dominate it ... and it wants to wipe out any resistance against such a presence," the Leader stated, but added that it will not be able to defeat the resistance front.
In similar remarks, Hassan Hanizadeh, a Middle Eastern affairs analyst said in August that the main objective of the United States in leading a possible military action against Syria is weakening the anti-Israel resistance front in the region.
He also said, "After doing away with the Syrian threat, the Americans will concentrate on getting rid of the Islamic resistance, particularly the Islamic Republic of Iran, because Iran plays a significant role in the region and among the Islamic countries."
Hanizadeh emphasized that in case of any type of military intervention in Syria, the anti-Israel resistance front would not stand idly by and the US and its allies would pay dearly for their reckless move.