Massive Anti-Government Protest Gears Up in Poland
TEHRAN (Tasnim) - Tens of thousands of Polish trade unionists kicked off a march through the capital in the finale of a four-day protest against the unpopular and increasingly fragile centre-right government.
September, 15, 2013 - 12:22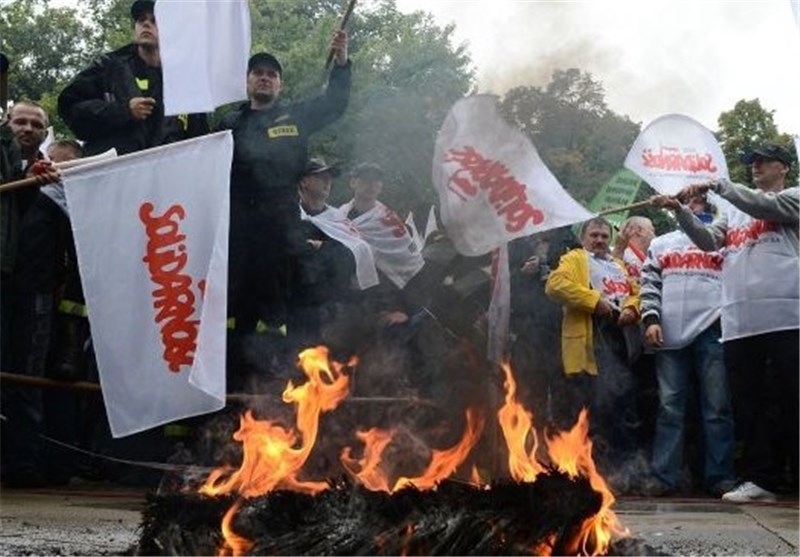 The protest reflects widespread public gloom over this year's sharp economic slowdown in Poland, which has been dragged down by the eurozone crisis.
The disillusionment has plunged the coalition government's popularity to its lowest level since Prime Minister Donald Tusk took office in 2007.
Marek Lewandowski, spokesman for the Polish trade union federation Solidarity, told AFP: "We want the departure of Donald Tusk. This is the only way to change social policy in Poland."
Since dawn, hundreds of buses with protesters have descended on Warsaw.
Lewandowski said the right-of-centre Solidarity was expecting 100,000 of its members to join the protest, with two other unions also expected on the streets.
They have the support of a majority of Poles, according to an opinion poll carried out by MillwardBrown for the Fakty news programme on Tuesday: 59 percent of respondents said they were for the demonstrations, with 31 percent against and the rest unsure.
The protesters began their action on Wednesday, gathering in front of the main ministries before marching towards parliament to the sound of drums, whistles and sirens.
The union is also calling for a higher minimum wage and improved job security — particularly for young people — in the EU member country.