Commander: IRGC Will Do Duty in Case of US Military Move in Syria
TEHRAN (Tasnim) – Commander of the Islamic Revolution Guards Corps Major General Mohammad Ali Jafari warned the US about severe consequences of military intervention in Syria, and stressed that the IRGC, too, will "do its mission" in case of possible US military action against Damascus.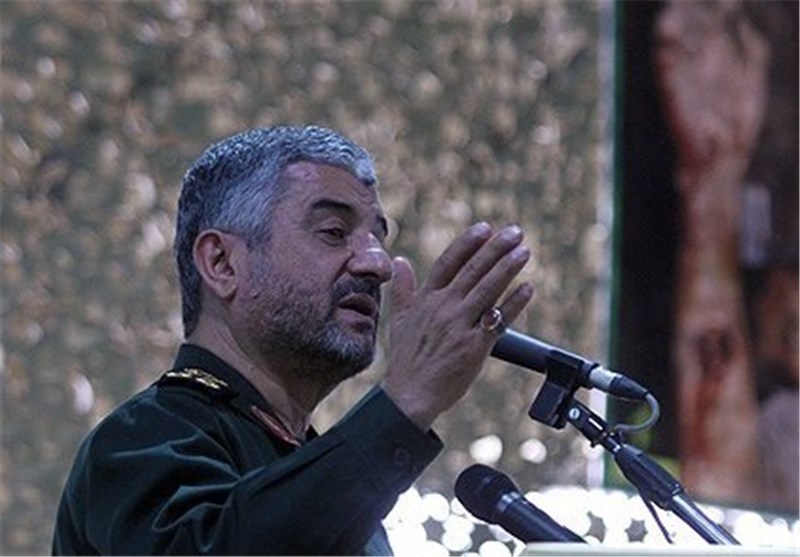 Speaking to reporters on the sidelines of an annual gathering of the IRGC commanders and officials here in Tehran on Sunday, Jafari said he hopes that the US officials "decide rationally" and avoid the abyss in Syria.
He warned the US against problems that may emanate from military intervention in Syria, and stated, "If the US embarks on conducting military move in Syria, it will face numerous problems. Then, the IRGC, too, will do its duty."
Earlier, US President Barack Obama said the threat of military action remains if Syria fails to comply with the newly-brokered US and Russian plan to destroy its chemical stockpiles.
He welcomed the plan, calling it an "important, concrete step", but warned that "if diplomacy fails, the United States remains prepared to act".
The US and Russia have given Syria seven days to submit a "comprehensive list" of its chemical weapons - otherwise, the US will seek a UN resolution that could still authorize strikes.
On their final day of talks in Geneva on Saturday, US Secretary of State John Kerry and Russian Foreign Minister Sergei Lavrov announced that once the details had been handed over, the Syrian government would have until November to allow UN inspectors access to the sites.
Later, the Syrian government welcomed the international agreement struck on chemical weapons disarmament as "a victory" for the Syria.
"On one hand, it helps the Syrians emerge from the crisis and on the other it has allowed for averting war against Syria," Syrian minister of state for national reconciliation Ali Haidar said in an interview with Russian news agency Ria Novosti.
"It's a victory for Syria that was achieved thanks to our Russian friends."