Iran Calls on Obama to Learn Lesson from Past US Failures
TEHRAN (Tasnim) – Iranian Foreign Ministry Spokeswoman Marziyeh Afkham called on the US President Barack Obama to give up war rhetoric and take lessons from the previous US administrations' failed policies on Iran.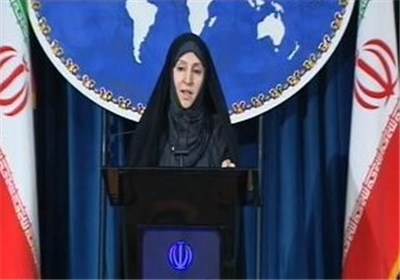 Afkham described Obama's recent interview with ABC News program "This Week" as the White House's insistence on the "illegal and illogical" military option.
"Obama administration should learn lesson from the failed experiences of the previous US administrations in adopting policy of confrontation with the Iranian nation," Afkham said, adding that the US should "accept that raising threatening remarks against the Islamic Republic of Iran will not leave even a little impact on Iranian government and nation's determination to restore its inalienable nuclear rights, including the right of uranium enrichment inside Iran."
She added that interaction with Iran is possible only through "the language of respect."
The Iranian spokeswoman further noted that influential lobbies have taken hostage the US foreign policy and told the US officials that resorting to military option in a bid to meet the interests of these lobbying centers, regardless of the principles of the international law and the UN Charter and against public opinion, would be an unjustifiable move.
The statement came after the US president told ABC that "verifiable agreement" to disarm Syria of chemical stockpiles will go further than any US military strikes could have in eliminating the threat of their use.
Obama confirmed publicly for the first time that he had exchanged letters with new Iranian president Hassan Rouhani, and said he believed his threat to use US military force in Syria, and subsequent pause to pursue diplomacy, sends a signal to Iran in the ongoing dispute over its nuclear program.
"What they should draw from this lesson is that there is the potential of resolving these issues diplomatically," Obama said.