Judiciary Chief Slams US for Duplicity on Use of WMDs
September, 18, 2013 - 19:06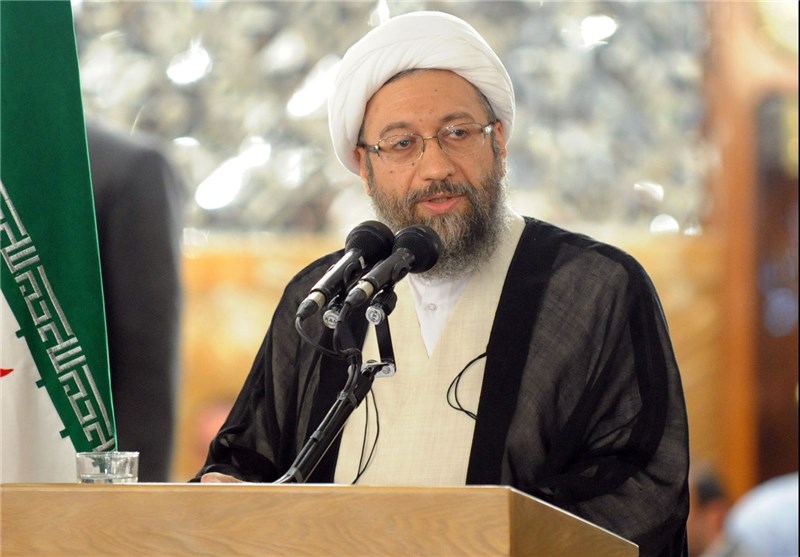 TEHRAN (Tasnim) – The US, which is the only country to have used nuclear weapons in warfare, is in no position to accuse other countries of producing weapons of mass destruction, Iran's judiciary chief said.
Speaking in a gathering of Iranian judiciary authorities here in Tehran on Wednesday, Ayatollah Mohammad Sadeq Amoli Larijani referred to the US as the one and only country that has ever used nuclear weapons in the past, but at the same time accuses other countries of producing chemical and nuclear weaponry.
"The Islamic Republic is not after atomic weapons, indeed not because of US threats or claims, but because we have moral and religious criteria in our military and defensive issues," the Iranian judiciary chief explained.
Senior Iranian officials and figures have on many occasions voiced their strong opposition to the production and use of weapons of mass destruction in any part of the world and by any country.
In relevant remarks on Tuesday, Supreme Leader of the Islamic Revolution Ayatollah Seyed Ali Khamenei touched upon Iran's opposition to the use of nuclear weapons, and said, "We reject nuclear weapons not for the sake of the US, but because of our convictions, and when we say no one should have such weapons, definitely we ourselves are not after them."
The United States was the first country to develop nuclear weapons, and is the only country to have used them in warfare, with the separate bombings of Hiroshima and Nagasaki in World War II.
In 1966, the size of the US nuclear arsenal peaked at over 32 thousand warheads and bombs. It is estimated that the strategic nuclear warheads and bombs after the full enactment of the Strategic Offensive Reductions Treaty in 2012 number between 1700 and 2200
In addition, the US has close to 5000 additional strategic and non-strategic warheads which are not limited by the treaty.
The United States and some of its allies have repeatedly accused Iran of pursuing non-civilian objectives in its nuclear energy program.
Iran rejects the allegation, arguing that as a committed signatory to the Non-Proliferation Treaty (NPT) and a member of the IAEA, it has the right to use nuclear technology for peaceful purposes.
In addition, the IAEA has conducted numerous inspections of Iran's nuclear facilities but has never found any evidence showing that the Iranian nuclear program has been diverted toward non-civilian objectives.