Assad to Destroy Chemical Weapons 'in One Year'
TEHRAN (Tasnim) - Syrian President Bashar al-Assad pledged to destroy his country's stockpile of chemical arms but said it would take one year to do so and will cost about $1bln.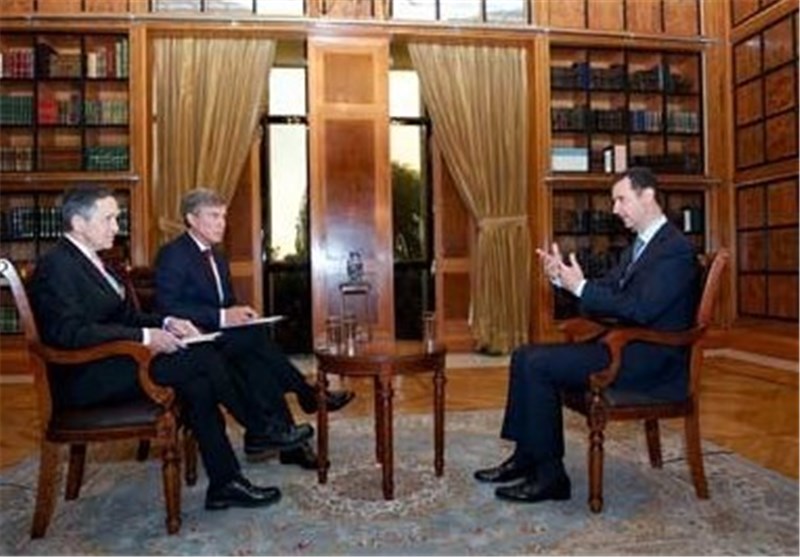 In an interview with Fox News, the US television channel, Assad also said his country was not gripped by civil war, but had been infiltrated by tens of thousands of foreign terrorists linked to al-Qaeda.
Assad's latest televised appearance came as UN envoys debated a draft resolution on Wednesday that would enshrine a joint US-Russian plan to secure and neutralise his banned weapons in international law.
The Syrian president denied on Wednesday that his forces were responsible for the chemical weapons attack outside Damascus on August 21, and blames terrorists for that attack.
"The whole story doesn't even hold together. It's not realistic. So, no, we didn't. In one word, we didn't use any chemical weapons in Ghouta," Assad told Fox News.
Assad told the channel that chemical disarmament would be costly and complicated.
"It needs a lot of money, it needs about $1bn. It is very detrimental to the environment," he said.
"If the American administration is ready to pay this money and take the responsibility of bringing toxic materials to the United States, why don't they do it?"
He said his decision to destroy his stockpiles of chemical weapons was not forced upon him by the threat of a US strike, and that he was responding to the initiative by Russia and "our conviction".
"So whether they have Chapter VII or don't have Chapter VII, this is politics between the great countries," he said, referring to a UN rule that would have to be invoked to justify international action.