Commander: Iran Well-Aware of US Weaknesses
TEHRAN (Tasnim) – Lieutenant Commander of the Islamic Revolution Guards Corps (IRGC) Brigadier General Hossein Salami said the US military operations in the region enabled Iran to identify the shortcomings of American armed forces, adding that Iran is now keenly aware of US weak points.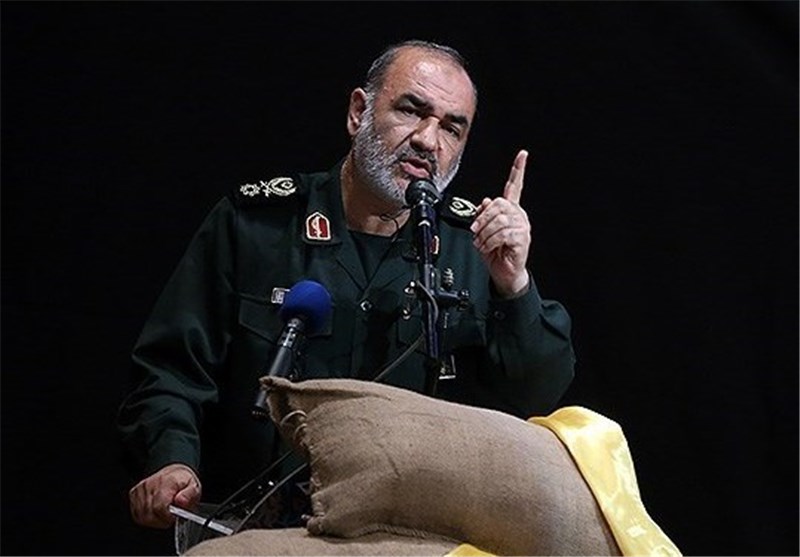 Speaking in a television program on Saturday night, Brigadier General Salami said Iran has been able to gain good knowledge of US weak points after Washington intensified its military presence across the region.
"We could measure their military capabilities, realize the major factors for expansion of (our) power along those lines... assess their (American's) weak point very well, and accordingly (could) realize the ways to counter and overcome them," the Iranian commander pointed out.
Asked about how Iran's military might compares with other countries in the region, Salami said, "Our distance with other regional countries in this area is very large, and I cannot compare the military power of Iran with other regional countries."
He further touched on Iran's high missile capabilities to defend the country, and noted that Iran is able to destroy unlimited targets by firing a barrage of missiles in case any potential threat is posed against the country's national security.
In separate remarks on September 16, Commander of the Islamic Revolution Guards Corps (IRGC) Major General Mohammad Ali Jafari said the Islamic Revolution has successfully risen to the challenges mounted by its adversaries whose plots against Iran have unraveled.
Jafari had stressed that the enemies' entire plots against Iran have ended in "complete failure," adding, "We are witnessing that the Islamic Revolution is powerfully rising to the challenges."
The IRGC commander said the plots hatched by enemies in Palestine, Iraq and Lebanon have been also thwarted, and stressed, "The latest defeat of the enemy against the Islamic Revolution front was in Syria."
He further referred to major achievements in the defense and security spheres of the country, saying even the enemies have admitted that the IRGC has boosted its capabilities for strategic confrontation with them.