Army Unveils Scorpion Tank, Displays Advanced Equipment
TEHRAN (Tasnim) – Iranian Army Ground Force on Sunday put on display its latest achievements and state-of-the-art military equipment, including the 'Scorpion' tank which is one of the most advanced armored vehicles in service.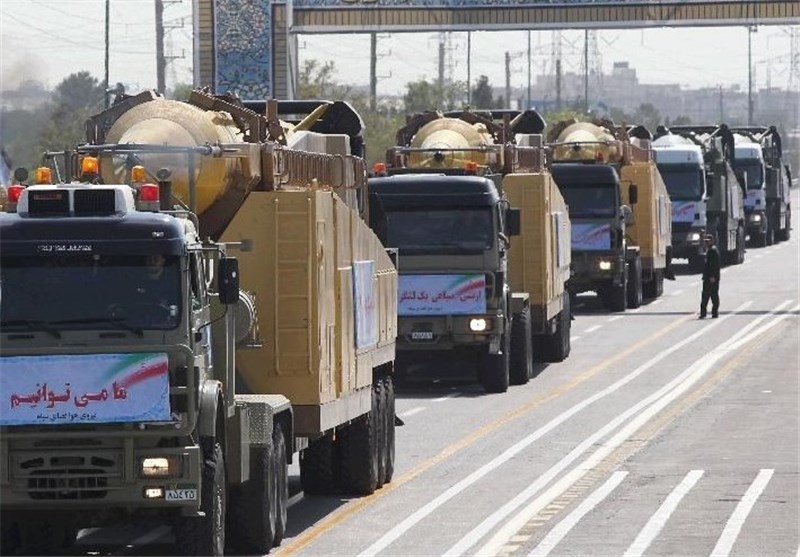 Iranian armed forces began nationwide parades on Sunday, the first day of the Sacred Defense Week which marks the onset of the Iraqi imposed war on Iran 33 years ago.
The opening ceremony of the Sacred Defense Week started on Sunday at the mausoleum of the late founder of the Islamic Republic, Imam Khomeini, south of the capital, Tehran.
During the parades, the Army ground force displayed the most recent military equipment, including its latest missiles and combat vehicles.
Cavalry corps was among the first ground force units that displayed its advanced equipment during the parades.
On display were also saw 'Ranger' heavy vehicles as well as a special sniper gun to be used for ground combats in asymmetric battles.
'Safir' tactical vehicles carrying advanced missiles, special personnel-carrier vehicles designed to move in difficult terrain, self-propelled artillery, various types of optimized personnel-carrier vehicles, mobile vehicles for asymmetric combats, indigenous 'Zolfaqar' tanks and fire control systems were among other modern military equipment in today's parades.
Furthermore, the Army Ground Force peacekeepers paraded in front of high-ranking Iranian officials, including President Hassan Rouhani, senior military commanders and officials, as well as a number of foreign military attaches.
Scorpion tank, one of the latest combat equipment, was also unveiled today. The parades also saw other tanks such as 'Mobarez' (fighter), 'Samsam' and M60 -- all of which are equipped with fire control and anti-laser systems -- as well as other tanks equipped with 23 mm cannons.
The latest type of "Nazea't" surface-to-surface missile was another domestically-manufactured military product that was put on display this morning.
In Iran, the 1980-1988 Iran-Iraq war is known as the Sacred Defense, and Sacred Defense Week is held on the anniversary of the beginning of the war. Sacred Defense Week begins on Shahrivar 31 in the Iranian calendar (September 22 this year), which is the day Iraq invaded Iran and began the imposed war on the country in 1980.