Explosions Rock Besieged Nairobi Mall
September, 23, 2013 - 15:49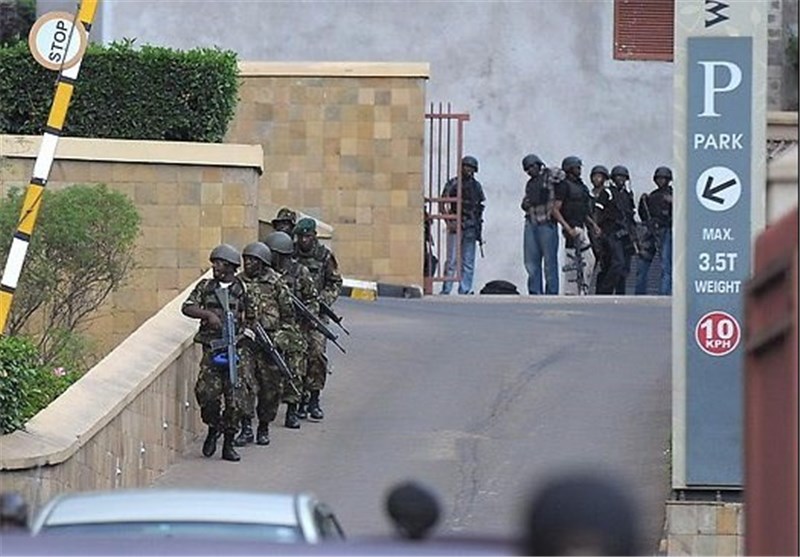 TEHRAN (Tasnim) - Black smoke has been seen rising and several blasts have been heard in the area of a Nairobi shopping mall where al-Shabab fighters are holed up with hostages.
Television images on Monday showed troops in camouflage running to new positions, while an armoured personal carrier was also seen shifting position.
Journalists and their cameras have been moved and no longer have a clear sight of the mall, but can see its perimeter.
"It is us who caused the explosion, we are trying to get in through the roof," one security official, who asked not to be named, told the Reuters news agency at the scene. There was no official comment.
"Police are ready with their guns cocked," said Al Jazeera's Catherine Soi, reporting from within the vicinity of the shopping complex.
Meanwhile, the International Criminal Court (ICC) announced that it was adjourning the trial of Kenya's Deputy President William Ruto on charges relating to violence following elections in 2007.
The court said Ruto would be excused from the trial, which began earlier this month, for a week to return to Nairobi to help deal with the crisis.
On Sunday, Kenyan security forces claimed to have rescued most of the hostages, but an unknown number remain trapped inside.
Armed men belonging to the Somali group had stormed the Westgate shopping centre on Saturday using grenades and assault rifles. The attack left at least 68 people dead and more than 150 wounded, according to the Red Cross.