Iran's FM Hails Meeting with Ashton as Positive
TEHRAN (Tasnim) – Iranian foreign minister, now in New York to attend the 68th session of the UN General Assembly, said his meeting with EU Foreign Policy Chief Catherine Ashton was "positive".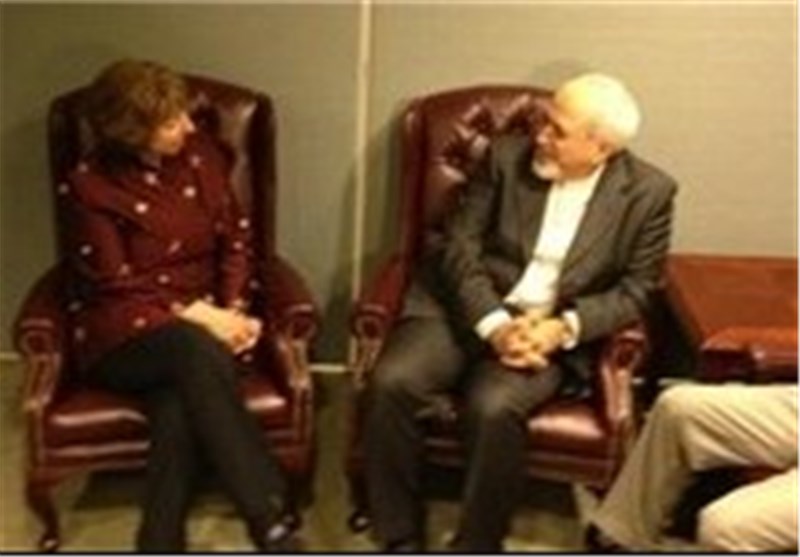 In a post on his Facebook page on Monday night, Mohammad Javad Zarif wrote that his meeting with Ahston was positive, adding that he has explained how it would be possible to reach a solution to the problems.
The Iranian minister and the EU foreign policy chief met on the sidelines of the UN General Assembly on Monday in New York.
"I explained the political determination and the conceptual framework to reach a solution based on the rights of the Iranian nation and the removal of sanctions to the European Union foreign policy chief," Zarif wrote on his Facebook page.
He also added that Ashton's interview after the meeting signified that she has had a "positive view" of the meeting.
After the meeting, Catherine Ashton said she had "a good and constructive discussion" in what was her first face-to-face meeting with Zarif.
The European official further noted that Zarif would join her and his counterparts from the Group of 5+1 (the five permanent UN Security Council members plus Germany) at a meeting that has been scheduled for Thursday in New York to discuss Iran's nuclear program.
Ashton also said the meeting in New York would be "short discussions," and added that she would represent the Group of 5+1 in a meeting with Zarif in Geneva in October.
Ashton also praised the Iranian foreign minister's "energy and determination to try and move forward in our talks."
Iran and the G5+1 have held several rounds of talks on Tehran's peaceful nuclear energy program.
The two sides wrapped up their latest round of negotiations in April in the Kazakh city of Almaty. An earlier meeting had been held in Almaty in February.
The US, Israel, and some of their allies have repeatedly accused Iran of pursuing non-civilian objectives in its nuclear energy program. Iran has categorically rejected the allegations, saying that its nuclear activities are entirely peaceful and in line with the Non-Proliferation Treaty, to which it is a signatory.
Meanwhile, numerous inspections of Iran's nuclear facilities by the International Atomic Energy Agency have never found any evidence showing that the Iranian nuclear energy program has been diverted toward non-civilian purposes.