Obama: Diplomatic Path Must be Tested on Iran
TEHRAN (Tasnim) – US President Barack Obama welcomed Iranian officials' statements on rejection of nuclear weapons, and stressed that the US and Iran should find a way that respects the rights of the Iranian people.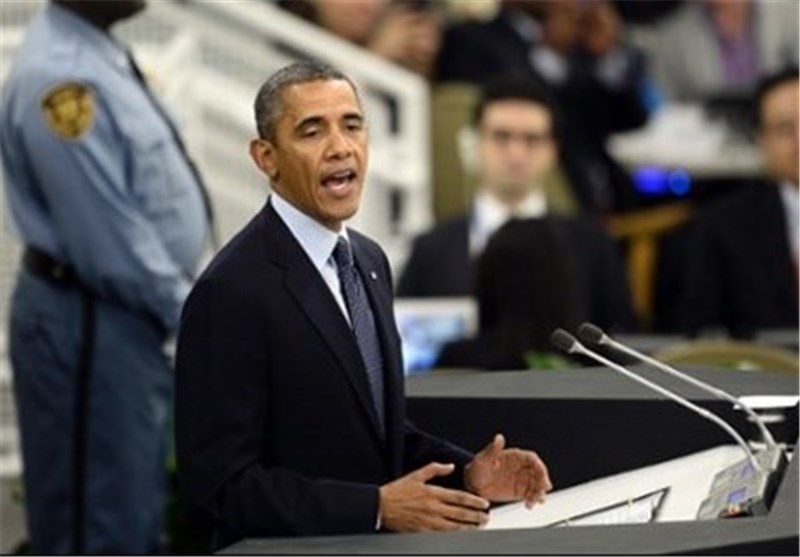 In an address to the United Nations General Assembly on Tuesday, Obama stressed that recent overtures from Iran on its nuclear program could start the United States and Iran down a "long road towards a different relationship - one based on mutual interest and mutual respect."
"We are not seeking regime change, and we respect the right of the Iranian people to access peaceful nuclear energy. Instead, we insist that the Iranian government meet its responsibilities under the Nuclear Non-Proliferation Treaty and UN Security Council resolutions," Obama underlined.
"Meanwhile, the Supreme Leader has issued a fatwa against the development of nuclear weapons, and President Rouhani has just recently reiterated that the Islamic Republic will never develop a nuclear weapon. These statements made by our respective governments should offer the basis for a meaningful agreement," Obama stated.
"We should be able to achieve a resolution that respects the rights of the Iranian people, while giving the world confidence that the Iranian program is peaceful," Obama underlined.
He said that he was directing Secretary of State John Kerry, working closely with European allies, Russia and China, to pursue an agreement with the government of Iran.
"The roadblocks may prove to be too great, but I firmly believe the diplomatic path must be tested."
He spoke of deep mistrust between the United States and Iran since the 1979 Islamic revolution, and said, "I don't believe this difficult history can be overcome overnight — the suspicion runs too deep."
"But I do believe that if we can resolve the issue of Iran's nuclear program that can serve as a major step down a long road towards a different relationship — one based on mutual interests and mutual respect."