Iranian, French Presidents Meet behind Closed Doors
TEHRAN (Tasnim) – President Hassan Rouhani met and conferred with his French counterpart Francois Hollande on the sidelines of the 68th session of the UN General Assembly in New York.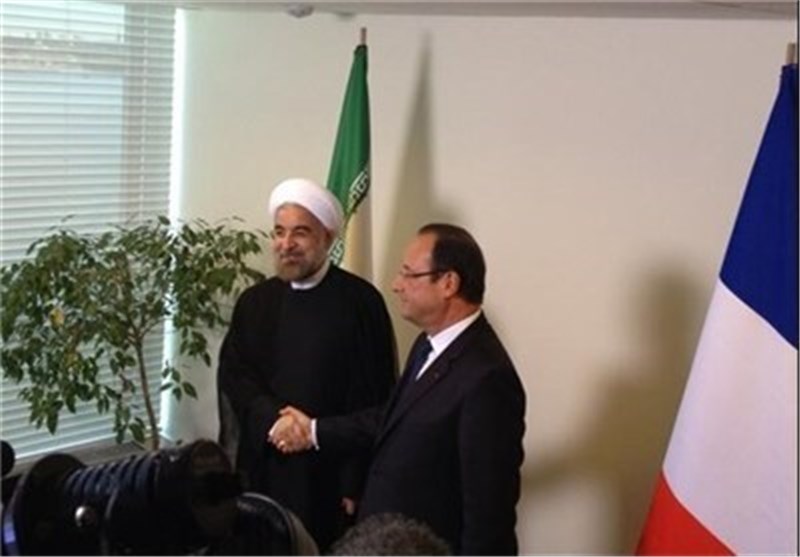 The 40-minute meeting of the two leaders was held behind closed doors after the two presidents shook hands and posed for photographs.
French President Francois Hollande, who was the first Western leader to meet new Iranian President Hassan Rouhani on Tuesday, told the UN General Assembly that while he was encouraged by the words of the new Iranian government, he expected such words to be followed by concrete action.
A French presidential source said the 40-minute meeting between the two presidents was polite and courteous and centered on Iran's nuclear program, the crisis in Syria and neighboring Lebanon.
The source further said that compared to the previous Iranian government there are positive signs, but the reality is that "there are still hurdles to jump and progress to be made."
The presidential source said that the Iranian side described the sanctions as unfair and suggested Paris could immediately end sanctions on the automobile sector, but the French side said progress on the nuclear dossier would result in the easing of the sanctions.
The two presidents also discussed the crisis in Syria, with the French leader hoping to convince Iran to reduce its support for President Bashar al-Assad and accept the terms of the proposed "Geneva 2" peace conference that calls for a transitional authority in the civil war-torn country. Iranian President told his French counterpart that Tehran has always supported a peacful settlement for the Syrian conflict and was open to the idea of Geneva 2.