Ashton Describes Talks with Iran as "Substantial"
TEHRAN (Tasnim) - US and European diplomats welcomed Iran's attitude at talks with world powers on Thursday aimed at resolving Tehran's nuclear issue.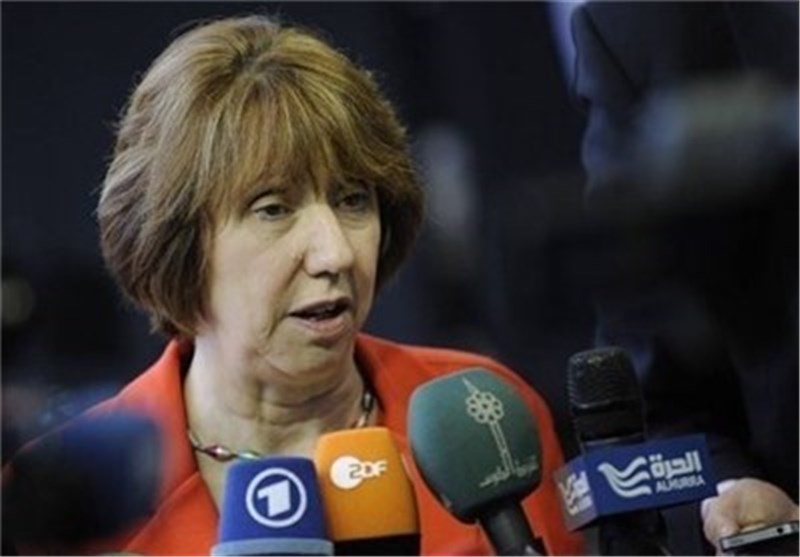 Iran said it was eager to dispel the notion that it is trying to develop a nuclear weapon and to get international sanctions lifted as fast as possible.
US Secretary of State John Kerry and Iranian Foreign Minister Mohammad Javad Zarif shook hands and sat next to each other at the meeting with five other world powers. Kerry leaned over to Zarif as the meeting was ending and said: "Shall we talk for a few minutes." They then had an unexpected one-on-one meeting.
It was the highest-level direct contact between the United States and Iran in six years.
European Union foreign policy chief Catherine Ashton also said the parties had agreed to "go forward with an ambitious timeframe."
They also agreed to hold a new round of substantive talks on Oct. 15-16 in Geneva, AP reported.
Kerry said he was struck by the "very different tone" from Iran. But, like his European colleagues, he stressed that a single meeting was not enough to assuage international concerns that Iran is seeking to develop nuclear weapons under cover of a civilian atomic energy program.
"Needless to say, one meeting and a change in tone, that was welcome, does not answer those questions," Kerry told reporters. "All of us were pleased that the foreign minister came today and that he did put some possibilities on the table."
Meantime, Zarif said he had "very good and constructive" talks with foreign ministers of the six world powers on Thursday.
Zarif made the remarks on Thursday in a press conference shortly after his meeting with foreign ministers of the Group 5+1 (five permanent members of the UN Security Council plus Germany) at the United Nations headquarters in New York.
"I'm satisfied with this first step, now we have to see whether we can match our positive words with serious deeds, so that we can move forward," the Iranian minister said in a press conference after the talks.
He once again reiterated that Iran's nuclear program is pursuing only peaceful purposes, and stressed that the result of the talks would have to include a "total lifting" of all sanctions against Tehran.
"We hope to be able to make progress towards resolving this issue in a timely fashion based on respecting the rights of the Iranian people to nuclear technology for peaceful purposes," Zarif pointed out.