Cleric Terms President Rouhani's UN Speech as "Logical"
TEHRAN (Tasnim) – Tehran's Provisional Friday Prayers Leader Ayatollah Mohammad Emami Kashani praised the Iranian president's recent address to the United Nations General Assembly as "logical", and said his speech covered the issue of peace which is favored by Islam.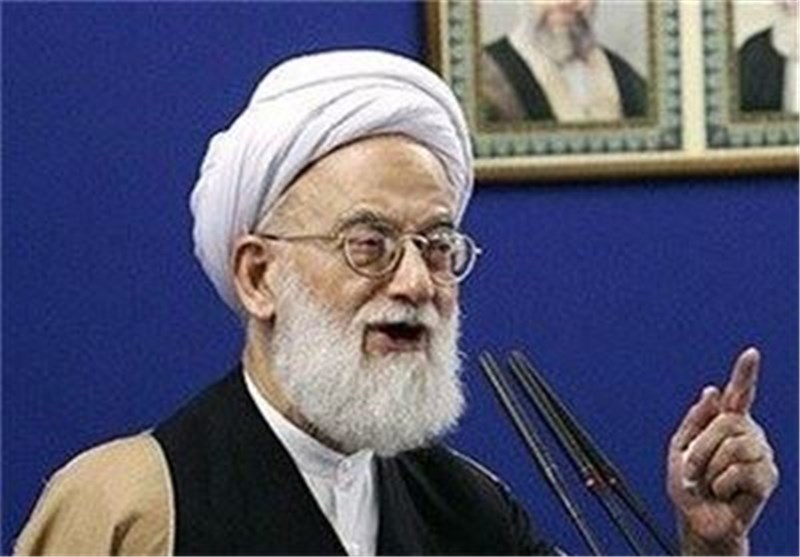 Describing President Rouhani's remarks at the UN as "strong, rich and logical", the Iranian cleric said the comments made by the president referred to peace which has its roots in Islam.
During his speech on Wednesday in New York, President Rouhani encouraged the entire countries, international organizations, and civil foundations to organize new efforts aimed at leading the world towards peace and security.
Ayatollah Emami Kashani further pointed to US President Barack Obama's speech at the UN General Assembly, and criticized him for talking about the notion of "regime change" in the Islamic Republic.
Obama had announced in his Tuesday's speech at the international body that the US is not seeking regime change in Iran.
The Iranian cleric, however, asserted that it is impossible to topple a government which has divine identity.
"We believe that these remarks (by Obama) are just war of words," the cleric added, addressing a large group of worshippers here in Tehran.
In relevant remarks on Thursday, Commander of Islamic Revolution Guard Corps (IRGC) Quds Force Major General Qassem Soleimani said the fact that US President Barack Obama said in his UN address that Washington is not after regime change in Iran is more a sign of inability than intention.
"Obama's assertions show that the United States has thus far been unable to overthrow the sacred system of the Islamic Republic of Iran, and will be so in the future," he said at the time.
He added that ever since the victory of the Islamic Revolution in 1979, all US leaders and their allies have focused their attention on toppling the Islamic system.
"If the US president says that the United States does not intend to overthrow the Iranian system it is not out of kindness, but a sign of that country's inability in its three-decade-long confrontation with Iran," Soleimani stated.