UN Unanimously Adopts Syria Arms Resolution
TEHRAN (Tasnim) - The UN Security Council voted unanimously to secure and destroy Syria's chemical weapons stockpile.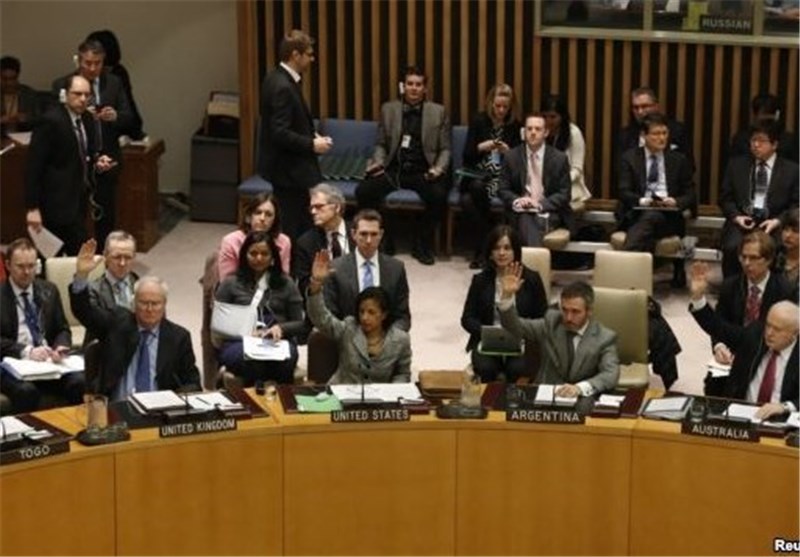 The vote late on Friday was the first resolution passed on the Syrian conflict since it began in March 2011, after Russia and China had previously vetoed three Western-backed resolutions.
UN Secretary-General Ban Ki-moon told the council immediately after the vote that he aimed to hold long-sought talks aimed at organising a political transition in Syria in mid-November, Al Jazeera reported.
"All violence must end. All the guns must fall silent," Ban stressed as he hailed the "historic resolution" on Assad's chemical weapons stockpile, stressing it was not "a license to kill" with conventional arms.
Bashar Jaafari, Syria's ambassador to the UN, said the government was "fully committed" to attending the proposed peace conference.
Jaafari said the resolution covered most of the concerns of Damascus and that the countries supporting rebels - Turkey, Saudi Arabia, Qatar, France and the US - should also abide by it.
The Organisation for the Prohibition of Chemical Weapons (OPCW) in The Hague, the world's chemical weapons watchdog, had earlier approved the disarmament plan for Syria that paved the way for the UN vote.
For the first time, the UNSC endorsed the roadmap for a political transition in Syria adopted by key nations in June 2012 and called for an international conference to be convened "as soon as possible" to implement it.
The resolution calls for consequences if Syria fails to comply, but those will depend on the council passing another resolution in the event of non-compliance.
Sergei Lavrov, Russia's foreign minister, said after the vote the UN Security Council would be prepared to take punitive steps in the event of confirmed violations of a resolution demanding the elimination of Syria's chemical weapons arsenal.