Iranian Police Arrest 2 over Insulting President Rouhani
TEHRAN (Tasnim) – A senior Iranian police official said at least two people have been arrested for hurling insults at President Hassan Rouhani upon his arrival from New York on Saturday after attending the United Nations General Assembly.
September, 29, 2013 - 16:37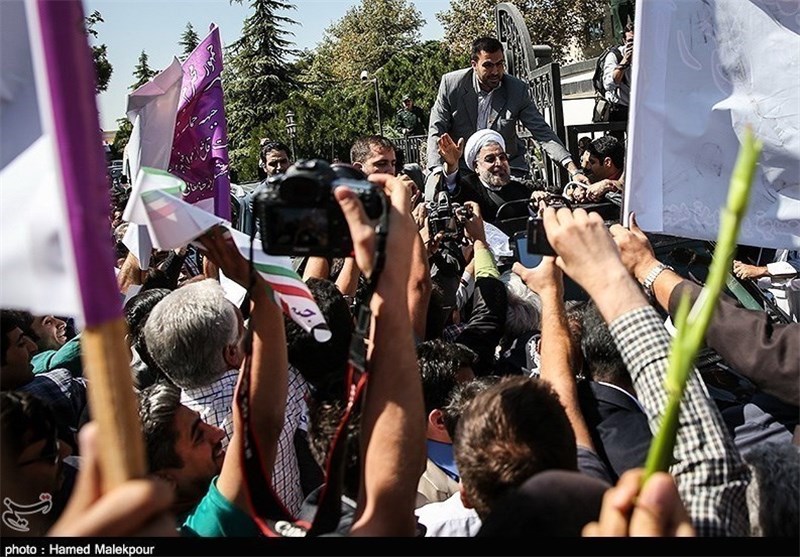 "According to the reports, one or two of those who insulted the president have been arrested," Iranian deputy police chief for social affairs, General Montazeralmahdi, said in a press conference here in Tehran on Sunday.
Hundreds of Iranians cheered President Hassan Rouhani at Tehran's Mehrabad International Airport on his return from New York City on Saturday after his attendance in the 68th annual session of the United Nations General Assembly.
But a smaller number of protesters threw eggs and at least a shoe at president's official car as it was leaving the airport. Rouhani was standing in his car, waving through the sunroof as he passed supporters when opponents began to pelt the vehicle.
The insulting behavior of protesters was reportedly a reaction to the position demonstrated by President Rouhani in New York.
Rouhani also had a phone conversation with US President Barack Obama. The Friday's conversation between Iranian and American presidents was the highest-level contact between the two countries in more than three decades and a sign that they are serious about reaching a pact on Tehran's nuclear program.
Both Rouhani and Obama underlined the need for a political will for resolving the West's standoff with Iran over Tehran's peaceful nuclear program.