Iranian, Omani Top Clerics Underline Fight against Extremism
TEHRAN (Tasnim) – Senior Iranian and Omani clerics highlighted the significance of unity among Muslims, and discussed ways to counter enemies of Islam and extremists.
October, 02, 2013 - 19:06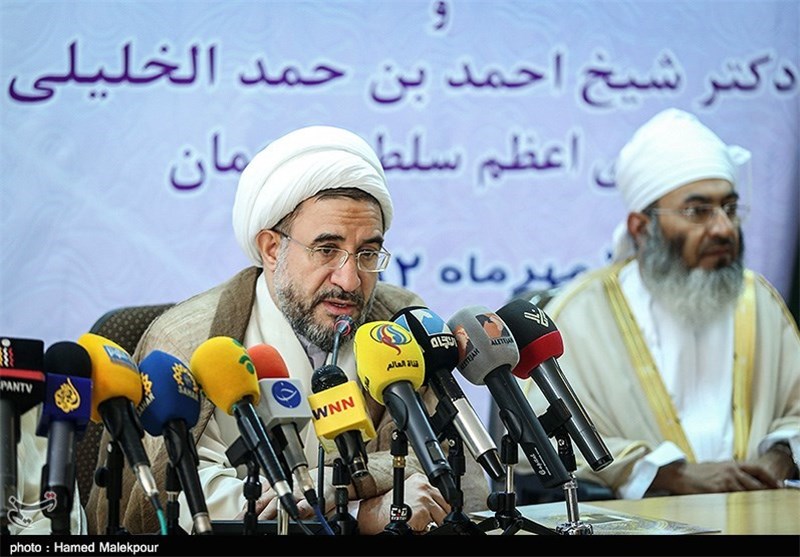 "The proposals we made to Omani clerics will, in practice, contribute to solidarity among Muslims and strengthen their hand against the enemies of Islam and Takfiris," Ayatollah Mohsen Araki, the secretary general of the World Forum for Proximity of Islamic Schools of Thought, said on Wednesday in a meeting with Omani mufti Sheikh Ahmad bin Hamad al-Khalili.
The Iranian cleric also said he has held "constructive negotiations" with the Omani mufti, the most important of which revolved around the necessity of creating unity among Muslim sects.
In relevant remarks on August 26, Supreme Leader of the Islamic Revolution Ayatollah Seyed Ali Khamenei had warned against dragging sectarian considerations into political disputes.
"Unfortunately, with some regional countries' support, a Takfiri group has been shaped which is in conflict with all Muslim groups. But supporters of this (Takfiri) group should know that this fire will burn them as well," Ayatollah Khamenei stated in a meeting with visiting Oman's Sultan Qaboos bin Said Al Said here in Tehran.