Leader Supports Iran's Diplomacy in NY, Calls US Untrustworthy
TEHRAN (Tasnim) – Supreme Leader of the Islamic Revolution voiced support for the Iranian government's diplomatic movements in New York but at the same time stressed that Tehran does not trust the US officials since they are untrustworthy and act under the influence of the Zionist lobbies.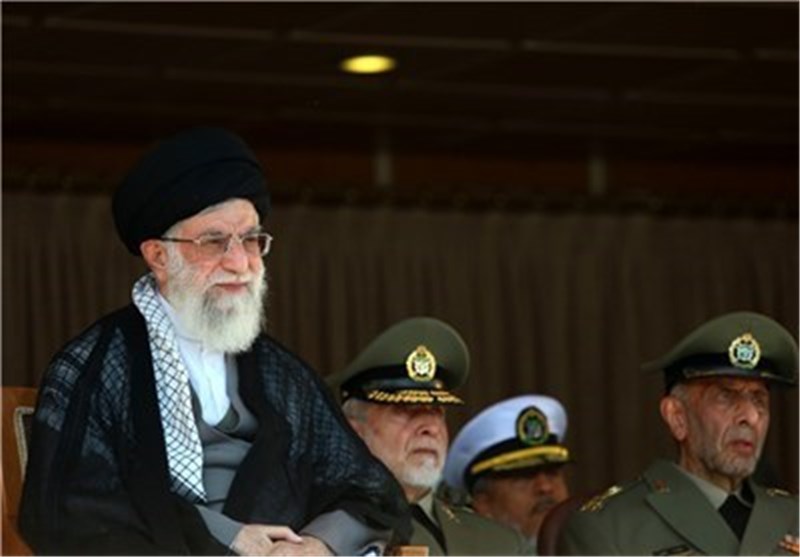 "We support government's diplomatic movements, including the visit to New York, because we trust in the servant government and are optimistic about it," Ayatollah Seyed Ali Khamenei said, addressing Army cadets here in Tehran on Saturday.
The leader, however, said some issues in the New York visit of the Iranian delegation were not "timely".
"Because" the Leader explained "we consider the US administration as unreliable, supercilious, illogical and faithless."
Ayatollah Khamenei noted that the US administration is dominated by the international Zionism, that it bows down to the Zionist regime of Israel and moves in line with the interests of the Zionists.
In his UN General Assembly address, President Rouhani encouraged the entire countries, international organizations, and civil foundations to organize new efforts aimed at leading the world towards peace and security.
He underlined that instead of the incompetent coalition for war in different parts of the world we need to concentrate on coalition for sustainable peace, throughout the world.
"Today the Islamic Republic of Iran is calling on you and on the entire international community to take a step forward; inviting the mankind against aggression and extremism…" said President Rouhani.
Later, Rouhani and his US counterpart Barack Obama talked over the phone as the Iranian official was on his way to leave New York City after the United Nations General Assembly.
Elsewhere, Ayatollah Khamenei deplored anti-Iran warmongering remarks, and said, "All those who used to raise verbal threats against Iran should understand that our response to any kind of devilish act against the Iranian nation will be serious and crushing."
The remarks by the Leader came in response to the war rhetoric raised by Obama and Israeli officials in the recent days.
Obama, in a meeting with Israeli Prime Minister Benjamin Netanyahu on Monday, announced that all options against Iran were on the table.
"It is absolutely clear that words are not sufficient," Obama told Netanyahu at the Oval Office. "We take no options off the table, including military options."
Later, Netanyahu, addressing the 68th session of the UN General Assembly on October 1, had repeated his groundless allegation that Tehran was seeking to develop nuclear weapons and said the Islamic Republic must dismantle its entire nuclear energy program.
He also claimed that the Zionist regime "will not allow Iran to get nuclear weapons," threatening, "If Israel is forced to stand alone, Israel will stand alone."