Rouhani Hopes for Germany's Positive Role in N. Talks
TEHRAN (Tasnim) – Iranian President said he hopes that Germany would play a positive and constructive role in the upcoming Geneva talks on Iran's peaceful nuclear program.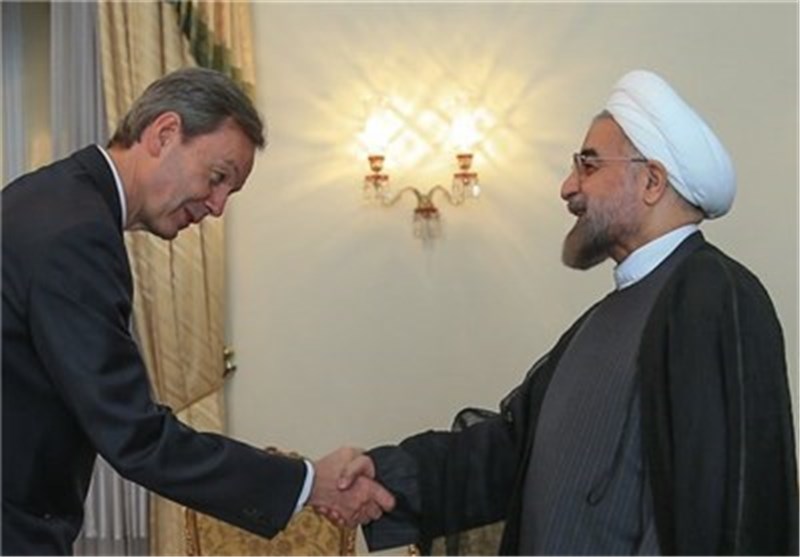 In a Monday meeting with Germany's new ambassador to Tehran, President Hassan Rouhani highlighted the significant role of Berlin in talks over Iran's nuclear program and expressed hope that the European country would contribute to the quick settlement of the West's dispute with Iran over its nuclear program.
A fresh round of nuclear talks between Iran and the Group 5+1 (five permanent members of the UN Security Council plus Germany) is due to take place on October 15 and 16 in Geneva.
"The Islamic Republic of Iran's nuclear activities are undoubtedly peaceful, and it wants to enjoy its nuclear rights within the framework of international regulations without any discrimination," Rouhani stated.
He also congratulated German Chancellor Angela Merkel on her re-election, and called for expansion of bilateral relations in economic, political and cultural fields.
The German ambassador, Michael Baron von Ungern, for his part, praised Tehran-Berlin developing ties especially in economic fields, and hoped for remarkable progress in the forthcoming nuclear talks in Geneva.
On September 22, Angela Merkel won a third term as German chancellor and became the only major European leader to be re-elected twice since the financial crisis of 2008.
Merkel's Christian Democrats and their allies, the Christian Social Union in Bavaria, together won 41.5 percent of the popular vote, which translates into 311 of the 630 seats in Parliament. In 2009, the two parties together won 33.8 percent of the vote.