Iran, Germany Voice Objection to Military Action on Syria
TEHRAN (Tasnim) – Both Iran and Germany are opposed to any military action against Syria as a solution to the prolonged crisis in the Arab country.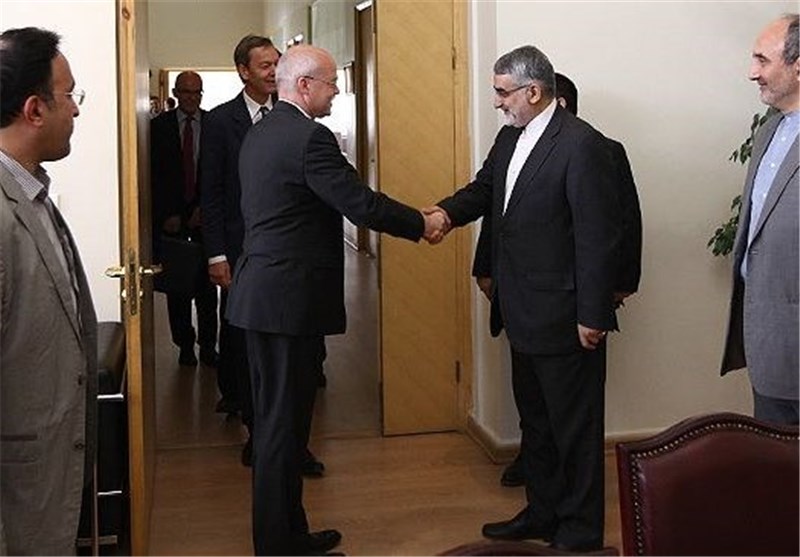 In a Tuesday meeting in Tehran, Chairman of the Iranian parliament's National Security and Foreign Policy Commission Alaeddin Boroujerdi and Head of Africa, Asia-Pacific and Latin America and the Middle East Division in the German Foreign Ministry Clemens von Goetze reiterated that military action and resort to force can only aggravate tensions in Syria.
"Since the beginning of the crisis, the Islamic Republic of Iran believed that the only solution to the Syria crisis is dialogue and negotiation between the Syrian groups and government," the Iranian lawmaker stated.
He also made it clear that military approaches would only pave the way for intensification of crisis across the region.
The German diplomat, for his part, pointed to Tehran and Berlin's similar stances on the issue, and said, "Both countries believe there is no military solution to Syria, and it would only add to the pain and distress of the Syrian nation."
Von Goetze also emphasized the need to curb the spread of extremist groups inside the crisis-ridden country.
After weeks of US push for military action on Syria in the wake of a suspected chemical weapons attack in the suburbs of Damascus on August 21, which it blamed on the forces loyal to Syrian President Bashar al-Assad, diplomacy now seems to have taken center stage.
This came after Russia, one of Damascus's main international supporters, proposed to put Syria's chemical weapons arsenal under international control.
Thereafter, Russia and the United States reached a groundbreaking deal on a framework to eliminate Syria's chemical weapons. According to the deal, Syria had to submit a comprehensive list of its chemical weapons stockpile within one week - with the chemical arsenal eliminated by mid-2014.
The Syrian government gave details of its chemical weapons arsenal last month to the Organisation for the Prohibition of Chemical Weapons (OPCW) under the Russia-US agreement which also provided for Damascus to join the Chemical Weapons Convention.
Iran, one of Syria's major supporters, believes that intervention of foreign governments has only worsened the crisis and that arming the rebels further inflames the tensions, and has called on all Syrian sides to sit together to find a negotiated settlement for a conflict that can rip apart the social and economic fabric of the Syrian society.