Larijani: Afghan Development Hinges on Progress towards Democracy
October, 10, 2013 - 13:10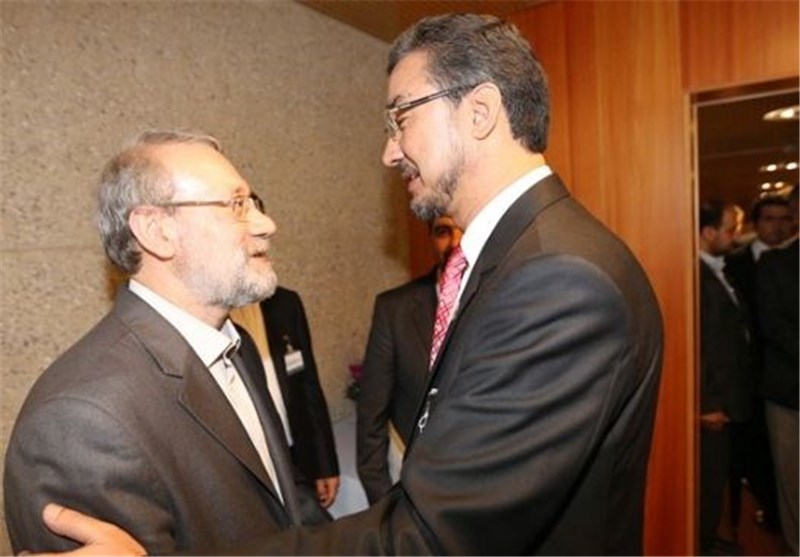 TEHRAN (Tasnim) – Iran's Parliament Speaker Ali Larijani said Tehran will do its best to help improve the security situation in Afghanistan which he argued needs to promote democracy to find itself on the path to development.
Larijani reaffirmed Tehran's commitment to help restore security and peace to Afghanistan in a meeting with his Afghan counterpart Abdul Rauf Ibrahimi on Wednesday on the sidelines of the 129th Inter-Parliamentary Union (IPU) Assembly in Geneva.
"We always make efforts to bolster security in Afghanistan... and will do our utmost for the establishment of stability there," said larijani.
He also called on Afghans to promote democracy and the rule of law as the country is just some months away from electing a new president.
The race to succeed Afghan President Hamid Karzai in April 5, 2014, election has started and the registration process for potential candidates closed on Sunday night, after twenty-two people had been nominated.
The Afghan Parliament speaker for his part praised Iran's support for Afghanistan, adding that the two neighboring countries will stand by each other for good as they share numerous commonalities.
Ibrahimi expressed hope that Iran would further contribute to the establishment of lasting peace in Afghanistan.
In a separate meeting with Ecuadorian Parliament Speaker Gabriela Rivadeneira, Larijani stressed the expansion of economic relations between Iran and the Latin American country, saying that the Iranian Parliament was also keen to bolster its parliamentarian relations with Ecuador.
He also thanked Ecuador for supporting Iran in the international arena, particularly for backing Tehran's peaceful nuclear energy program.