Commander Highlights Iranian Police's Great Advancement in Ensuring Security
October, 11, 2013 - 16:19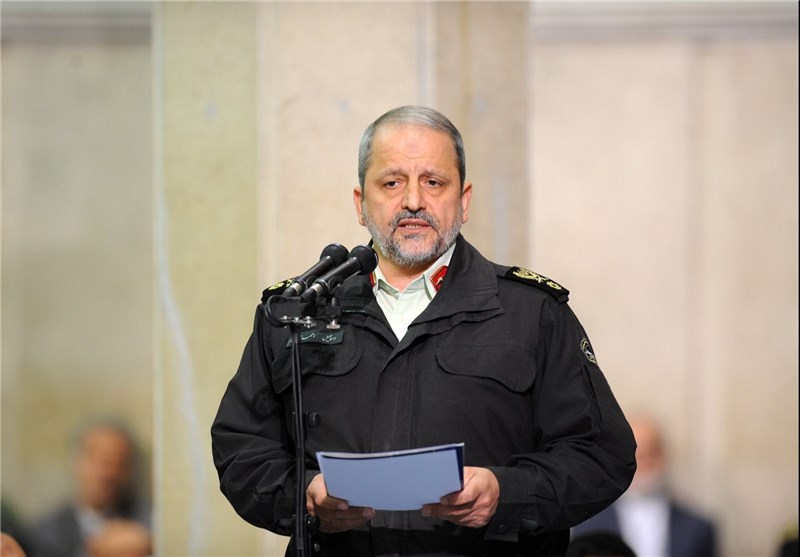 TEHRAN (Tasnim) – Iranian Law Enforcement Force capability is at the level of advanced countries' police forces, police chief said, and noted that people now enjoy high level of security inside the country thanks to police's tight security strategies along border regions.
"Today, the law enforcement force stands at the same level as the world's developed countries, whereas the volume of threats against our country outstrips the other states," Brigadier General Esmail Ahmadi Moqaddam said on Friday.
Addressing a large group of Iranian worshippers here in Tehran, he stated that Iranian police forces have had a better performance in controlling the crimes in comparison to other countries.
Brigadie General Ahmadi Moqaddam then pointed to the high level of security inside the country, and explained that such situation has materialized after successful strategies for border security.
"Fortunately, we are today on the verge of controlling 80 percent of our (country's) borders," he pointed out.
In relevant comment on Wednesday, the police chief said the rate of violent crimes has been on the decline in the past few years, in part thanks to the effective measures adopted by the police, and added that some 90 percent of such crimes committed in the country are discovered by the Iranian law enforcement.
As regards border control measures, he had announced that there are electronic surveillance and control devices along large parts of the country's borders.