EU Spokesperson Praises Atmosphere of Iran-G5+1 Talks
TEHRAN (Tasnim) – European Union Spokesman Michael Mann said the new round of talks between Iran and the six world powers were taking place in a positive atmosphere.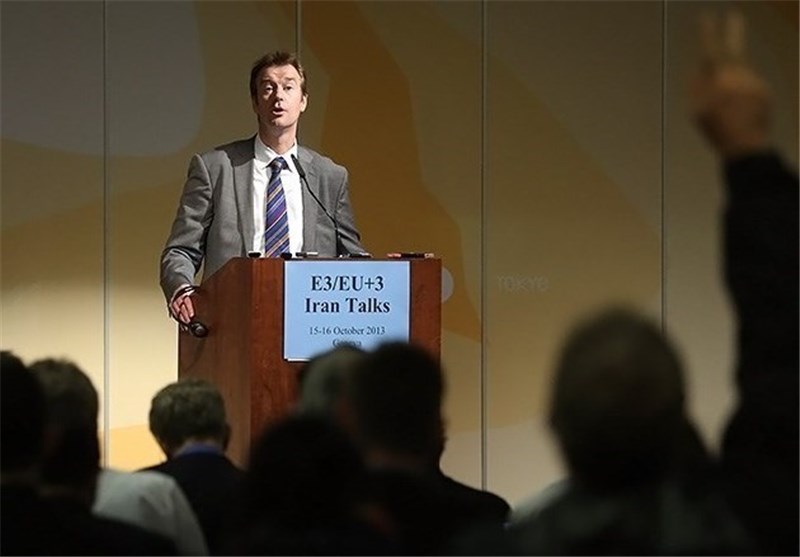 In a Tuesday press conference after the first session of the fresh round of talks between Iran and the Group5+1 (the five permanent members of the UN Security Council plus Germany), Michael Mann, spokesperson of EU foreign policy chief Catherine Ashton, told reporters in Geneva that the negotiations were held in a "positive atmosphere."
The new round of talks on Tehran's nuclear program commenced between senior diplomats representing the Islamic Republic of Iran and the six world powers in Geneva earlier today.
The two-day talks, to last through Wednesday, are focused on Iran's nuclear program, which the US and some of its allies say might include a military component.
Iran, however, rejects the allegation, arguing that numerous inspections of its nuclear sites by the International Atomic Energy Agency (IAEA) have invariably failed to find any diversion towards military purposes.
Mann also noted that the group of six world powers has expressed "cautious optimism" about the negotiations. "The ball is in the Iranian court," the spokesman added.
"I hope it is really time now for tangible results," Mann said, pointing to the previous rounds of talks between Tehran and G5+1 which have yielded no results so far.
In the meantime, the Iranian delegation has presented a package of proposals to the other side with the aim of ending the nuclear standoff.
In his press conference, Michael Mann did not elaborate on the details of Iran's power point presentation, but noted that experts accompanying Ashton and representatives of the six world powers would analyze it quickly.
Mann also said that the atmosphere in the talks was different than in the past. "In previous rounds we did not see significant engagement from Iran," he said.