Iran, G5+1 to Issue Joint Communiqué after Talks
October, 16, 2013 - 15:53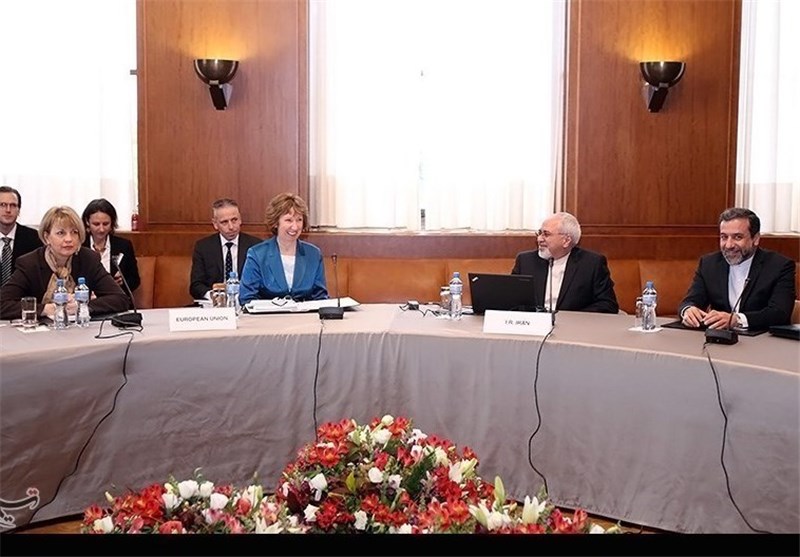 TEHRAN (Tasnim) – Iran and the Group5+1 (also known as P5+1) are going to issue a joint communique at the end of their talks on Wednesday, a document many hope will open the way to end the nuclear impasse between the two sides.
The negotiating teams from Iran and the Group 5+1 (the five permanent UN Security Council members plus Germany) have held a second day of talks on Tehran's peaceful nuclear program in Geneva amid a spirit of new optimism this round of talks could lead to a real breakthrough.
Iranian Foreign Minister Javad Zarif who is leading the Iranian delegation and the European Union foreign policy Chief Catherine Ashton, chairwoman for the talks for the G5+1, will attend the last session, a sign both sides are doing their best to make sure they leave the talks with tangible results.
The Wednesday session officially started with a few hours delay upon the request by the G5+1 representatives due to the need for further consultations among the members of the G5+1.
Iran's Deputy Foreign Minister Abbas Araqchi, who led his country's negotiating team during Tuesday's sessions, earlier said that the group asked for the delay in today's morning session "due to seriousness of the debates."
According to an official close to the Iranian team, the evening session of nuclear talks on Tuesday revolved around Iran's proposed plan that was offered to the representatives of G5+1 countries earlier in the day.
Tehran has presented a three-step plan that aims to bring the standoff over the Islamic Republic's peaceful nuclear program to an end, but details of the proposals have not been revealed so far.
On Tuesday, Araqchi said that with its new proposals, Iran has proven a major shift in its attitudes, and expressed the hope that the other side would also change its attitude in Wednesday sessions.
"Without a change in their attitude, it would be difficult to move forward," he cautioned.