EU's Ashton Expresses Satisfaction with Iran-G5+1 Nuclear Talks
TEHRAN (Tasnim) – European Union foreign policy chief Catherine Ashton said she was satisfied with the talks between Iran and the six major world powers held over the past two days.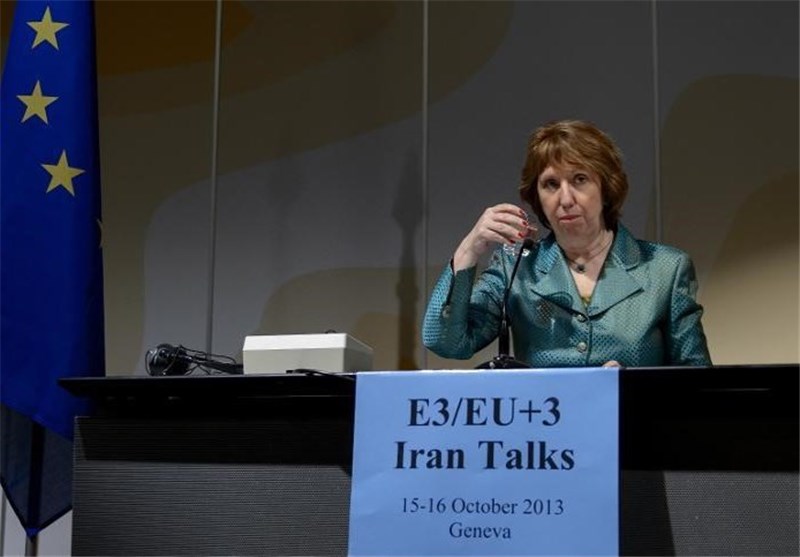 Speaking in a press conference at the end of two-day nuclear talks between Iran and the Group 5+1 (the five permanent UN Security Council members plus Germany) in Geneva, Catherine Ashton told reporters that she was satisfied with the talks over the past two days, but added that there was still a long way to go.
Top diplomats from Iran and the G5+1 embarked on the fresh round of negotiations on Iran's nuclear program in Switzerland on Tuesday morning.
The two sides held two rounds of talks on Tuesday. The first round was held in the morning, attended by Iranian Foreign Minister Mohammad Javad Zarif and EU foreign policy chief, Catherine Ashton. Zarif and Ashton were not present in the afternoon round of talks.
In her press conference, Ashton also noted that nuclear talks between Iran and world powers in Geneva were the "most detailed" ones ever held between the two sides.
She added that the recently wrapped up negotiations ended in a joint statement for the first time, noting that the next round of talks are set to take place on November 7-8, again in Geneva.
"The participants also agreed that the EU3+3 and Iranian nuclear, scientific and sanctions experts will convene before the next round to address differences and to develop practical steps," read part of the statement.
During the October 15-16 negotiations, Tehran presented a three-step plan that aims to bring the standoff over the Islamic Republic's peaceful nuclear program to an end, but full details of the proposals have not been made public so far.
The European top negotiator, who oversaw diplomacy with Iran on behalf of the six world powers during the talks, refrained from giving any details about Iran's proposed plan, which was offered earlier on Tuesday morning.
"No details of the talks would be divulged today," she explained.
Little information only came to light after Iran's Deputy Foreign Minister Abbas Araqchi, who was delegated by Foreign Minister Zarif to lead the Iranian team of negotiators in Geneva, said last night that Tehran will consider talks on the level of uranium enrichment, as well as adoption of the Additional Protocol, in the final stage of its proposed plan.