Rouhani: Iran Determined to Seek Win-Win Game
TEHRAN (Tasnim) – Iran's president reaffirmed the country's commitment to pursue a win-win track in its interaction with other countries, adding that the win-lose approach has no place in the contemporary world.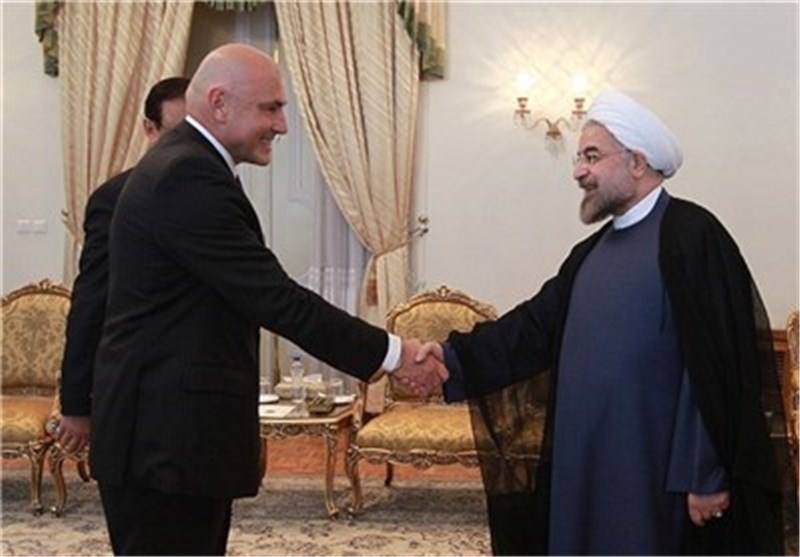 In a Saturday meeting with Switzerland's new ambassador to Iran, President Hassan Rouhani once again stated that the Islamic Republic possesses the "necessary political determination" to seek a win-win game given the ongoing conditions in today's world.
"I believe the win-lose game would never succeed in the contemporary world's conditions, and all should consider a win-win game," said the president.
Referring to the recent talks between Iran and the Group 5+1 (the five permanent UN Security Council members plus Germany) in the Swiss city of Geneva on October 15-16, President Rouhani said, "I believe the Islamic Republic of Iran's political determination has become clear for both sides in the Geneva meeting."
The sides have also decided to hold the next round of their talks on November 7-8 again in Geneva, in advance of which scientific and sanctions experts will convene to address differences and to develop practical steps.
The Iranian president further expressed the hope that the Swiss embassy in Tehran, which also hosts the US interests section in the country, would very well convey Iran's goodwill to the Americans.
The US and some of its allies argue that Iran's nuclear program might include a military component.
Iran, however, rejects the allegation, arguing that numerous inspections of its nuclear sites by the International Atomic Energy Agency (IAEA) have invariably failed to find any diversion towards military purposes.
The Swiss envoy, Giulio Haas, for his part, thanked Iran for choosing Geneva as the venue of nuclear talks with the G5+1 countries, and assured the Iranian president that his country will do its utmost to help ease the sanctions imposed against Iran, many of them in place for more than three decades.
Earlier on October 13, Iran's Deputy Foreign Minister Abbas Araqchi, who was taking a lead role in the negotiations in Geneva, had announced that the Islamic Republic would try to find a solution with world powers that would win the trust of both sides, and called on the West to show honesty for achieving results.
"These negotiations have two phases. In the first phase we need to reach agreement over the objectives and the future perspective; we wish to say that we would not be taking steps in the darkness. The objective must be playing a win-win game and to make sure that both sides would emerge as winners," Araqchi said at the time.